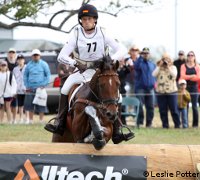 Click for larger image. Michael Jung is still in the lead after the cross-country phase of eventing. Photo: Leslie Potter
Cross-country day for eventers at the 2010 Alltech FEI World Equestrian Games dawned with spectacular sunny weather as the riders set out on the challenging championship track. Saturday's attendance broke all other records for the WEG so far, with 50,818 spectators.
The very first rider of the day, Great Britain's Nicola Wilson aboard Opposition Buzz, had a clear and fast run, no doubt giving a boost to all the riders' confidence. The next several rides, however, resulted in a slew of eliminations, leaving everyone a bit nervous. Two Germans, Dirk Schrade and Simone Deitermann (who was in third individually after dressage), had unfortunate falls at the second-to-last fence.
The German overnight leader, Michael Jung, had much better luck with a clear and fast round to maintain his standing. "The start was not as good as I would have liked; I had to wait a very long time [due to a 30-minute course hold] and and didn't know when I would start," said Jung. "The first water came up very quickly and I went in carefully–that's why I had a short distance to the first element and a long distance to the second, but we luckily came out very well. There were demanding jumps all over the course–you really had to concentrate from the first jump until the end."
Great Britain moved into the lead as a team after the hits to Germany. British rider William Fox-Pitt moved into second individually with an effortless round aboard his 2010 Rolex Kentucky Three-Day Event winner, Cool Mountain. "We all thought it was a championship track, but no one would have guessed it would cause the trouble it did," said Fox-Pitt. "It's a very big, straightforward, attacking track. I never imagined I'd move up from twelfth to second. I didn't feel more relaxed for having ridden here in the spring [while winning Rolex], but knowing how he's come on since then, I was hopeful."
The U.S. also made a giant leap as a team, moving from seventh after dressage to second after cross-country. One refusal for Buck Davidson aboard BallyNoe Castle RM was the dropped score, while the other three team riders (Phillip Dutton, Karen O'Connor and Boyd Martin) jumped clear.
The leading U.S. individual rider, Becky Holder, moved into third with a clear round and just 3.2 time penalties. "We were all aware of the cumulative effect of the track on the horses' confidence; little mistakes catch up with them," said Holder. "It was a relief to have the coffin [#7abc] and wishing well [#8abc] in my rearview mirror–he went through them easily, and that gave me a lot of confidence. I thought the head of the lake [#17abc and 18abc] was a lot of fun and rhythmic."
There were no major mishaps, although there were several rider falls. One horse, Iman du Goldfe, ridden by Italy's Juan Carlos Garcia, hit jump #20 with his shoulder. Although he was up and about afterward, he was transported to Rood & Riddle Equine Hospital as a precautionary measure.
Things promise to be tense in tomorrow's stadium jumping round, as the scores among medal contenders are very tight. "I'm glad the British team is feeling our breath down their necks," said Becky Holder. "We've been working really hard on our show jumping, and hopefully we'll put on a good show tomorrow."
Click for larger images
| | | |
| --- | --- | --- |
| William Fox-Pitt | Phillip Dutton | Mary King |
| Becky Holder | Andrew Nicholson | Karen O'Connor |
INDIVIDUAL STANDINGS
1st–Michael Jung (GER) 33.0
2nd–William Fox-Pitt (GBR) 42.0
3rd–Becky Holder (USA) 42.5
4th–Ingrid Klimke (GER) 42.9
5th–Andrew Nicholson (NZL) 43.5
6th–Stephanie Rhodes-Bosch (CAN) 44.2
7th–Karin Donckers (BEL) 44.4
8th–Pippa Funnell (GBR) 45.5
9th–Karen O'Connor (USA) 45.6
10th–Mary King (GBR) 46.2
TEAM STANDINGS
1st–Great Britain (139.4)
2nd–United States (143.3)
3rd–Canada (147.5)
4th–New Zealand (150.8)
5th–Germany (192.7)
See more World Equestrian Games eventing news >>
Keep up with the latest news from the 2010 Alltech FEI World Equestrian Games. Subscribe to HorseChannel.com' s exclusive WEG Newsletter