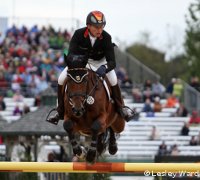 It was a nail-biter until the end during the 2010 Alltech FEI World Equestrian Games eventing show jumping, as less than a rail separated many of the medal placings. The United States stood in team silver and individual bronze medal position overnight.
Becky Holder, poised for a U.S. individual bronze, was held for re-inspection during the Sunday morning jog before show jumping. She opted to withdraw instead of jogging again, leaving the U.S. with no other individual competitors.
Although Boyd Martin jumped double-clear for the U.S. team aboard Neville Bardos, the others weren't so lucky. Already the drop score due to penalties incurred on cross-country, Buck Davidson and BallyNoe Castle RM had one rail. Phillip Dutton and Woodburn also had an uncharacteristic rail, as well as one time fault. However, the real tumble down the scoreboard occurred when Karen O'Connor and Mandiba had an inexplicable stop at jump 7, a black plank fence styled after those found along Kentucky farms. At the second attempt, Mandiba made the jump but knocked it down, resulting in 12 faults total (four for time). This bumped Canada into silver and New Zealand into bronze position, and good jumping rounds by those teams kept them on the podium.
In the individual medals, Michael Jung of Germany added no penalties to his comfortable lead, jumping a double-clear round for the gold aboard La Biosthetique-Sam FBW. "Over the last few years, [the horse and I] have grown together so much–and I really hope we can do it again in London [at the 2012 Olympics]," said Jung. "I've been training him daily for five years; he trusts me and we're very good together."
Asked about the German team's multiple eliminations on cross-country that resulted in the team dropping out of a big lead for the gold, he said, "It was tough when we failed, so I'm a little disappointed, but most importantly the horses and riders are still well."
William Fox-Pitt of Great Britain, riding Cool Mountain, had no rails to spare for individual silver. They managed a perfect round, similar to the one seen when the pair won the Rolex Kentucky four-star at the same venue in the spring. They also sealed the team gold for Great Britain. "It's very hard to pinpoint one thing that marks success," said Fox-Pitt. "We're very lucky back home to have fantastic support from our chef d'equipe; we get so much training through the winter, and we had luck on our side."
New Zealand's Andrew Nicholson posted a handy double-clear as well for the bronze. The individual medals were well-earned, with all three riders finishing on their dressage scores with no jumping penalties.
The Canadian team, which has been coached and directed in recent years by U.S. Olympic gold medalist David O'Connor, made gigantic strides up the leaderboard with all six riders jumping clear on cross-country day, moving them from ninth to third. With the collapse of the team USA on show jumping day, they climbed the podium again to silver. Team anchor Kyle Carter felt O'Connor has made all the difference. "David is responsible for putting together the program that produced these results, and we've gotten stronger and stronger with the support staff he's brought in. He brought it to another level above all of our other programs in the past."
New Zealand, sitting in fourth before show jumping, was also able to leap-frog the U.S. with their solid show jumping to earn team bronze. "The team has really come together and gotten stronger," said Andrew Nicholson. "I thought if we could get into the top four or five we'd be on our way up, so to get a medal is a great bonus."
Eventing legend Mark Todd, who came out of eventing retirement in 2008, was a proud member of the New Zealand team. "It's like starting over, really," Todd said of his return. "I'm enjoying being back in the sport with some nice young horses coming on." After the untimely death of his four-star horse Gandalf late last year, he had little time to find a way to WEG. "I had to fast-track Grass Valley, who was the only horse with the experience to possibly get to this level. He did one three-star last spring, and Badminton this year to get four-star experience. He's a straightforward and honest horse, and I felt he'd be able to step up to something like this."
WEG Eventing Medal Standings

Team
Individual
Great Britain
Michael Jung (GER)
Canada
William Fox-Pitt (GBR)
New Zealand
Andrew Nicholson (NZL)