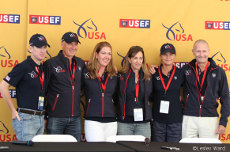 Click for larger image. The United States Show Jumping team with coach George Morris. Photo: Lesley Ward
The United States show jumping team consists of the following riders and horses:
McLain Ward rides Sapphire, a 15-year-old Belgian mare.
Mario Deslauriers rides Urico, a 9-year old KWPN gelding.
Candace King rides Skara Glen's Davos, a10-year-old Zangersheide gelding.
Lauren Hough rides Quick Study, an 11-year-old French warmblood gelding
Laura Kraut rides Cedric, a 12-year-old KWPN gelding
The United States show jumping squad and their Chef d'Equipe George Morris, took time out of their busy schedules the first week of the 2010 Alltech FEI World Equestrian Games to stop by the United States Equestrian Federation headquarters to chat with reporters.
Most of the team had spent the summer competing in Europe and two horses, Laura Kraut's Cedric and Lauren Hough's Quick Study, had just flown in from Spain a couple of days earlier.
"I purposely left the team members where they were," said Morris. "I didn't take them out of their rhythm to bring them home for training sessions. These folks are professionals. They know their horses better than I do!"
Here's what each rider had to say about competing at the games:
McLain Ward
"Sapphire feels great. We're just about ready to go," said Ward.
"My journey to the games started years ago. I started thinking about them on the plane home from the Beijing Olympics. Getting a horse this far can be a bit stressful for the owners and the team, but it doesn't get old.
McLain was thrilled to be competing on home ground.
"We have to travel all over the world to compete. It's great to compete at home. It's something we're not used to!"
The only thing that McLain was slightly concerned about was the possibility of another rider jumping his horse if he makes the final four in the individual competition where the riders have to ride everyone else's horses. But not because Sapphire is a difficult ride—she's the opposite. "I'm concerned because my horse is so easy to ride. I'm going to get my butt kicked. Sapphire is like an equitation horse!"
Mario Deslauriers
Deslauriers felt confident about Urico.
"I think my horse is going to peak at the right time. He's been very good at the last few shows. I jumped him yesterday and will work him a little more as we get closer to the event."
Laura Kraut
Laura Kraut was just happy to be back in the United States.
"I was so glad to go to Starbucks this morning!
"I hope Cedric stays in the same form he's been in while we were in Europe, but in addition to all the preparation and planning, a lot of it depends on luck. This is my third big championship in a row. I feel so fortunate to be here.
"I think we definitely have an advantage as the home team.
"I hope that the games will be a really special event. I think our sport will have more viewers on TV than ever before. And more people will see us jump in person. I hope it will be exciting to watch for everyone and that it will help the sport grow in the United States."
Lauren Hough
"When I first heard that the games were going to be in Kentucky, riding in them became my goal. Quick Study came into my life at just about the same time as the location of the games was announced."
Hough wasn't worried about the horses reacting badly to the hustle and bustle of the games.
"Our horses are so used to traveling. Quick Study and Cedric just flew in from Spain. We were a little worried about the weather being so hot, but it looks like weather's going to be fantastic—cool and nice."
Candace King
"When I found out that the games were going to be on home turf, it became my goal. It's very exciting to have made it this far!"
To find out when the United States show jumping team will be competing, visit www.alltechfeigames.com.
See all World Equestrian Games show jumping news >>
Keep up with the latest World Equestrian Games news with HorseChannel's exclusive WEG newsletter. Subscribe now >>