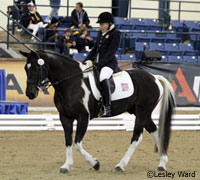 Click for larger image. Laura Goldman competing in para-dressage with Carlingford JD. Photo: Lesley Ward.
Para-dressage riders from all over the world gathered today at the 2010 Alltech FEI World Equestrian Games for five days of top-class competition. The event began with team tests in which nations compete against one another using their top three riders.
The team result will be decided after all of the riders have completed their team test and their scores accumulated. The riders will then compete in individual and freestyle tests within their grades for separate individual test.
In para-dressage, riders are evaluated to establish their "classification profile." This means that riders with similar functional abilities compete against each other.
Para-dressage is split into five grades—grade Ia and Ib through grade IV—with grade IA being for the most severely disabled equestrians and IV for the least impaired.
Para-riders are allowed to use equipment, also known as dispensation aids, to help them perform the movements required in a dressage test. For example, a rider with little or no use of his or her legs may use two long dressage whips and a rider with little upper body balance may hold on to a strap across the saddle's pommel to stay secure in the saddle.
United States team member Elizabeth Pigott explained about the equipment she uses when she competes with her horse Mr. Darcy:
"I use rubber bands on my feet and calves to hold my legs closer to my horse and I ride with two dressage whips."
Jonathan Wentz was the first American to enter the arena on Tuesday, riding NTEC Richter Scale, a 16-year-old Shire cross gelding in the Grade II class. The pair finished up in 15th place.
Second to go for the yanks, was the senior member of the team, Laura Goldman riding Trudy Phillips gorgeous 11-year-old skewbald Irish Sport Horse gelding, Carlingford JD.
Laura and JD competed in the Grade Ia test, which is performed at the walk. Competitors had to perform circles, half circles, serpentines and free walk.
After her test, Laura took a few minutes to talk with journalists. She was happy with her test.
"I thought it was OK. I tried to be accurate," said Laura. "I hope my ride will help our team. This horse is fantastic and my coach is wonderful! This horse is going to get a whole bag of carrots when I get back the barn.
"I hope this sport grows in this country and I hope we get as good as the Europeans. I know that we can do it."
Laura has only been riding JD since the end of May.
"I know Laura was nervous," said Chef d' Equipe Missy Ransehousen. "But I think she did a great job!"
When I first started riding, there were many trainers who said it wasn't going to happen," admitted Laura. "It was difficult to get people to work with me outside of therapy. A lot of people think disabled people ride like a sack of potatoes and it's just not true.
I found a trainer who treated me like the rest of the folks. She said 'If you can trot around the arena twice, I'll coach you.' Well, I trotted around six times!"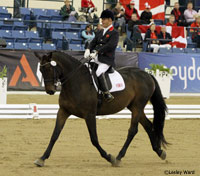 Click for larger image. British rider Lee Pearson and Gentleman compete on opening day of the para-dressage world championship. Photo: Lesley Ward.
The British flags started flying in the arena as Lee Pearson, current world champion trotted into the arena on his own Gentleman to compete in the Grade Ib class.
Lee has a condition called arthrogryposis which causes his joints to have limited movement. He walks with his legs completely splinted from hips to heels and uses crutches or his zippy electric wheelchair to get around.
Lee competes and wins in able-bodied classes in Great Britain and he's also a trainer of able-bodied students. He rode a beautiful, if sedate, test, and explained afterwards why he wanted to keep Gentleman calm and collected throughout.
"It was a safe test and a bit underpowered," admitted Lee. "But we needed a safe test for the team score. Gentleman is a bit spooky, so I just wanted him to relax. He can be sharper than a 12.2 pony. My horse could have exploded or spooked. I'm number one in the world, but I always remember than I'm on a live animal."
Their "safe" test was good enough for first place.
"He's never heard so many cameras clicking in his life, but he was really good," said Lee. "I call this sport 'stressage' not dressage.  So, halfway through the test, I looked up and thought 'Just enjoy yourself!' And I did!"
When asked how he gets Gentleman used to the hustle and bustle of the arena, Lee admitted that he drives his Range Rover into the middle of his arena, opens the doors and lets the music blast out.
"I'm probably not very popular in my village though," laughed Lee.
The popular British rider was disappointed that the para-equestrians wouldn't be showing at all in the big outdoor arena.
"I wish at least one of tests would have been in the main arena. I think the crowds would really have enjoyed our freestyle classes."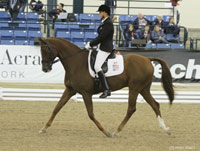 Click for larger image.
Robin Breuckman and Raison D'Etre. Photo: Lesley Ward
American team riders Robin Breuckman and Susan Treabess competed in the Grade IV class later in the day. Robin and Raison D'Etre finished sixth with a score of 65.750.
"I was very pleased with the test," said Robin. "He's a very nice horse and I maximized what I could get out of him. I feel like it was a good start and I contributed to the team."
Robin was eager to let everyone know that Raison D'Etre a lovely Thoroughbred Holsteiner cross, was actually bred in Lexington, Ky. in a farm not far from the Kentucky Horse Park.
Last to go for the Americans, Susan and Moneypenny, a 16-year-old KWPN mare owned by Katy Peterson, finished 10th in the class with a score of 63.0. Susan was born without a left hand, but has ridden her whole life. She became involved in para-dressage in 2006.
For complete para-equestrian results, visit www.alltechfeigames.com/results.
Read all World Equestrian Games Para-Dressage news >>
Keep up with the latest World Equestrian Games news with HorseChannel.com's exclusive WEG newsletter. Subscribe now >>