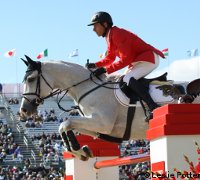 Click for larger image. Carsten-Otto Nagel turned in a clear round to help the German team reach top standings in Tuesday's show jumping. Photo: Leslie Potter
Course designer Conrad Homfeld set a demanding track today for the part one of the showjumping Team competition at the Alltech FEI 2010 World Equestrian Games, which did its intended job of starting to sort the wheat from the chaff.
Two pivotal lines – a triple combination adjacent to the main stadium seating, and a devilishly tight two-stride double with white rails, followed by a bending six strides to a square oxer – proved the undoing of a surprising number of the 119 entries, including several of showjumping's brightest lights.
When the dust cleared, the Germans had assumed their customary position at the top of the leaderboard, thanks to a clear round from Carsten-Otto Nagel and two four-fault performances from teammates Marcus Ehning and Janne-Friederike Meyer. Carrying forward their scores from yesterday's speed class, they have a Team total of 17.80 points.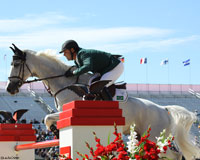 Click for larger image. Alvaro Miranda rode for the second-ranked Brazilian team. Photo: Leslie Potter
Brazil was a surprise second in the Team standings, and it is clear that Rodrigo Pessoa is no longer the only talent on this South American squad. Compatriots Pedro Veniss, Alvaro Miranda, and Bernardo Alves together gave Brazil a total of 18.49, less than one point behind the Germans.
The United States, meanwhile, had something of a rocky day, yo-yo'ing in and out of the top three. Mario Deslauriers and Urico, who had led the standings after yesterday's speed class, ended up being the American drop score today with two rails down, while McLain Ward (with Sapphire) and Laura Kraut (with Cedric) had one rail each, and Lauren Hough and Quick Study added a single time fault to their one-rail performance for a total of five. Combined with their superlative results from Monday, however, they finished the day in third spot with 18.69 points.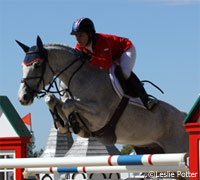 Click for larger image. Laura Kraut and Cedric had one rail in Tuesday's team competition. Photo: Leslie Potter
"Conrad (Homfeld) is just a genius (as a course designer)," remarked Kraut. "When I walked it, and then I watched the first 10 (riders) go, I thought, 'It's nothing like I walked'. I had to take a moment and think, 'now, what am I going to do with this?'"
Less than a point and a half separate the top four teams, with Canada posting a total of 18.93 for fourth. Both John Pearce (riding Chianto) and Eric Lamaze (partnered with Hickstead) were clear but garnered a single time fault, and for anchor rider Lamaze that one point was enough to drop the Canadian squad from second place.
"The last line was NOT a line that suited (Hickstead)," said Lamaze. "It's just a hateful line to ride. It's really on a half-stride and it's incredibly short to that big oxer. I completely went off-plan in the last line; I ended up just riding the course by how I know my horse and what I'd been watching all day. If I ended up with a time fault by doing that, (the payoff was) I left the rails up."
Click for larger image. Canada's Eric Lamaze rode Hickstead conservatively and picked up only one time fault. Photo: Leslie Potter
German chef d'equipe Otto Becker noted, "When you see (how close) the results are today, you realize that one time fault can make a decision. It's very close. There are riders here from countries you never expect (to excel at showjumping) and they are getting clear rounds. It is harder and harder for the strong countries to stay ahead."
Tomorrow is another day, when the top 10 teams–plus the top 15 individuals who are not part of a team–continue to the second round of competition in the evening. The other six top-ranked teams, out of an original 27, are France, Saudi Arabia, Australia, Belgium, Sweden, and Great Britain.
See all World Equestrian Games show jumping news >>