Click for larger image
. Jennifer Baker and Kranak of the United States. Photo: Lesley Ward
Day two of the para-dressage competition at the 2010 FEI Alltech World Equestrian Games saw the Brits coming on strong once again. Yesterday current world champion Lee Pearson had one of the highest scores of the day and today 20-year-old Brit Sophie Wells won the Individual Championship Grade IV test on Dr. Jackie Walkers' lovely chestnut Pinocchio with a score of 71.677.
Grade IV is the level for riders with less severe disabilities.
Sophie competed this year as a member of the British able-bodied Young Riders dressage team and has also proved herself internationally as a para-equestrian.
Americans Robin Brueckmann, Susan Treabess, Jennifer Baker and Mary Jordan also competed in this tough class. Breuckmann finished in sixth place with her horse Raison d'Etre with a score of 65.871. Treabess and Baker tied for ninth, both scoring 64.839.
Treabess rode Moneypenny, a 16-year-old KWPN mare owned by Katy Peterson.
The fact that Jennifer Baker was actually competing at WEG was nothing short of a miracle. She has only been riding Akiko Yamazaki's 18-year-old KWPN gelding Kranak since August. Yamazaki owns Steffen Peters' mount Ravel.
"I've been through three horses in the past year. My mom used to teach Shannon Peters, Steffen's wife, and she called her to see if she knew anyone that had a horse for me to ride at WEG," explained Baker. "Shannon sent around a few e-mails and Akiko offered me Kranak as he had just been retired from Grand Prix competition."
"He is the perfect schoolmaster. I've only been working him for about six weeks. He's so perfectly trained. Riding him is like going to Harvard. I just had to learn which buttons to push."
Baker was looking forward to her freestyle class later in the week.
"It's going to bring a smile to your face. It's going to have U2 in it!"
She also had a few words of motivation for other para-equestrians.
"Never give up. I was in two motorcycle accidents and the doctors wanted to remove one of my legs," said Baker. "And then they said I'd never ride again. I didn't ride for 10 years, but I'm here now."
German rider Hannelore Brenner on her own Hanoverian mare Women of the World was the victor of the Grade III individual test with a score of 72.400. Americans Wendy Fryke and Erin Alberda finished up in 8th and 11th respectively.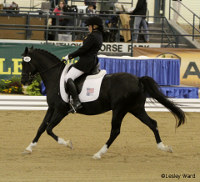 Click for larger image
. Wendy Fryke and Lateran of the United States. Photo: Lesley Ward
Fryke rides a little bundle of energy named Lateran. Lateran is a jet-black 13-year-old Westphalian stallion owned by Wendy and her husband Michael.
"I was thrilled with Lateran's test. He's a very macho guy and he tried really hard," said Fryke. "He keeps a level head even though he really wants to go and have a good time!"
Fryke admitted to some nerves.
"This is my first time at such a big, international event and it's so exciting. I'm just trying to keep the nerves at bay. I was really nervous, but once we halted the first time they just went away."
The mother of two let it slip out that back at the barn, Lateran is nicknamed "Muffin" or "Studly!"
Fryke was excited to be competing at WEG and she wanted other para-equestrians to aim for the games.
"I think it's such an honor for us to be here, but it's well deserved," she said. "It's the human spirit at its best."
But she added some words of advice to other aspiring competitors.
"You have to be tough and brave to be a para-equestrian. Always remember the sheer joy of swinging over your leg over the saddle," she advised. "Be prepared to work hard. This isn't a sport for sissies."
For complete para-dressage results visit www.alltechfeigames.com/results.
See all World Equestrian Games para-dressage news >>