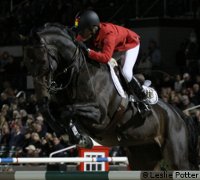 Click for larger image. Meredith Michaels-Beerbaum had a faultless ride on the firey Checkmate to contribute to the German team's gold medal. Photo: Leslie Potter
"German precision" is a phrase much tossed around in television commercials, but a capacity crowd at the Alltech FEI 2010 World Equestrian Games on Wednesday evening, October 6, witnessed the height of German accuracy, skill, and quality as they rode away with the Team gold medal.
With three clear rounds over the course designed by Conrad Homfeld, and one four-fault effort which became their drop score, there was no doubt that Germany was much the best on this clear autumn evening. Their Team total of 17.80 points, delivered by Marcus Ehning (aboard Plot Blue), Meredith Michaels-Beerbaum (with Checkmate), Janne-Friederike Meyer (and Cellagon Lambrasco), and Carsten-Otto Nagel, was a good six and a half points better than that accumulated by the team from France, who claimed silver with 24.32.
Belgium rounded out the top three with a score of 24.70, making for a European shut-out on the podium.
The boys from Brazil, who had entered this second half of the competition sitting in second place, enjoyed a clear round by the indomitable Rodrigo Pessoa, but his three team-mates all turned in four-fault rounds to drop them to fourth overall, while Canada was able to hold on to fifth thanks to exceptional clear rounds from Eric Lamaze and Hickstead, and John Pearce aboard Chianto.
The Americans, however, continued to find the home-court advantage elusive, as their fortunes turned from bad to worse. Of the four US riders, only Laura Kraut could manage a clear with her diminutive partner Cedric – and the Team total of 38.69 points left them dispirited, at the bottom of the standings in 10th.
The course, which featured Kentucky racing landmarks, such as a simulated tote board, starting gate, finish line, and the front gates of many famous local Thoroughbred farms, was largely the same as that featured in part one of the Team competition on Tuesday night. The water jump, however, was replaced by a substantial quadruple bar, and the dimensions of several other fences were altered.
"A number of the fences were larger, and the spreads were wider," said Meredith Michaels-Beerbaum, who delivered a clear round for the German team on her 15-year-old Hanoverian gelding, Checkmate to help clinch the gold. "But more important than that, we were all aware that the teams were very close together. There was less than one rail between the top seven teams, so there was a lot of pressure, and that's what made tonight feel so different than yesterday."
It has been 12 years since Germany last claimed the Team World Championships of showjumping, and Wednesday evening also marked a first for the squad: their first World Championship team which included two women, Michaels-Beerbaum and Janne-Friederike Meyer (who rode Cellagon Labrasco, a 12-year-old Holsteiner gelding). "This is a history-making night!", said Michaels-Beerbaum.
Meyer remarked, "I was so happy to be allowed to ride on the team, and pleased that I was able to contribute to this good result. Meredith, Marcus, and Carsten are like idols to me. It's unbelievable that I am in this position."
In addition to the Team competition, the top 15 individuals from yesterday's competition, who were not part of a team (three or four riders from the same country), also jumped under the lights, while the remainder of the original field of 119 from Tuesday took part in a consolation round on Wednesday afternoon.
The top 30 individuals will now advance to the individual final on Friday evening, October 8, and the top four from that round will face off in the finale on Saturday, in which each rider must demonstrate their prowess by riding all four of the finalists' horses over a course of fences.
Individually, Rodrigo Pessoa (BRA) leads the pack with 2.80 points accumulated over three rounds. Belgium's Philippe LeJeune is in second place with 3.11, Germany's Carsten-Otto Nagel is third with 3.24, and Canada has secured fourth and fifth with Eric Lamaze (3.39) and John Pearce (3.70). McLain Ward is the lone American who has made the cut; he and Sapphire are in 26th place with 12.27 and will return to compete on Friday.
See all World Equestrian Games show jumping news >>