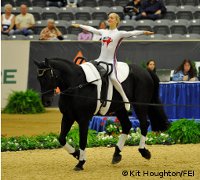 Joanne Eccles of Great Britain currently leads the standings in women's vaulting. Photo: Kit Houghton/FEI
The United States is the current leader in the team vaulting competition at the 2010 Alltech FEI World Equestrian Games with a score of 7.207 on Palatine, a 12-year-old Westphalian. Germany is in second with a 6.997, and Austria is close behind in third with a 6.999. Switzerland and France round out the top five with a 6.880 and 6.594 respectively.
"I feel very good about [our performance]," says U.S. team member and trainer Devon Maitozo, who has been vaulting for 28 years and was the individual gold medalist at the 1998 WEG in Rome, Italy. "I think it was probably one of the all-around best set of compulsories that our team has done this year. Each of us had little things we could have improved on, but all in all we were really happy with the entire performance. And the fact that we ended up in first makes us feel great. It leads us into our next round with a smile on our faces."
In vaulting competition, four judges evaluate the vaulters, giving them a score of 1 through 10 for each of seven movements, all of which are averaged to obtain the overall score. Two judges evaluate the horse, which accounts for 20 percent of a team or individual's score.
"Each compulsory exercise has something specific that we're looking for, and there's a written description," says FEI judge Suzanne Detol. "The closer they get to that, the higher their score will be. The most important thing is harmony with the horse—moving with the horse, being soft on the horse."
Detol adds that the horse is evaluated on his demeanor and gait. "For the horse, a good three-beat canter, a consistent tempo, being on the aids and out on the longeline, not cutting in [are important]," she says.
One horse in particular that had a difficult performance was Sweden's 13-year-old Danish Warmblood, Achim. In addition to breaking gait a few times during the test, he never quite settled in to a quiet canter. Although the vaulters handled it well with no seemingly major mishaps, the team received a 4.651 and finished in 11th place.
Argentina struggled in the compulsories as well. As a result of a bad landing during a dismount, one member injured her leg. After a brief interruption to assist her, the team was allowed to finish the test. Several mistakes, however, put Argentina at the bottom of the rankings with a 4.635.
The team compulsories were followed by the men's individual compulsory test. Gero Meyer of Germany leads with an 8.401, followed by Kai Vorberg, also of Germany, with an 8.297 and Patric Looser of Switzerland with an 8.253. The United States' Kenny Geisler, a two-time national champion who is competing at his fourth WEG, is currently in 12th place with a 7.011. The United States' Kristian Roberts is just behind Geisler in 13th position, and teammate Todd Griffiths is in 15th place.
Leading the women's individual competition is Joanne Eccles of Great Britain with an 8.157. Simone Wiegele is in second, and 2006 WEG gold medalist Megan Benjamin of the United States completes the top three. Mary McCormick and Alicen Divita, both United States, are in fifth and 15th, respectively.
"There was definitely a lot of energy out there," says Benjamin of the atmosphere during her performance on Urfreund Rosengaard. "He was very forward. For me, that's a little challenging to be soft and smooth on. Hopefully tomorrow [he will be calmer] and I'll be able to perform a little better."
For complete results, visit www.alltechfeigames.com/results. The vaulting competition continues on Thursday with the individual freestyles. The individual technical tests and team freestyles will take place on Friday, with the individual and team freestyle finals on Saturday and Sunday.