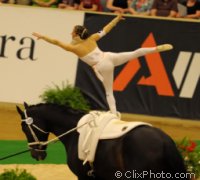 Click for larger image. Simone Wiegele earned the top score in Thursday's individual freestyle. Photo: Shawn Hamilton/ClixPhoto.com
In the vaulting freestyle's test of composition, technical difficulty and harmony between vaulter and horse, Germany's Simone Wiegele proved her strength in these areas as she moved into first place with a score of 8.344, combining her second-place compulsory performance from Wednesday with her freestyle score of 8.650, the highest in the women's competition.

Joanne Eccles of Great Britain had the lead for the majority of the event but finished in second with an 8.274. She showed great strength and elegance in technically difficult movements such as standing on one leg and executing a back flip to dismount. Eccles has demonstrated tremendous strength in both rounds of the competition so far and credits her success to the help of her teammates, who are also her family.

"We've been working really hard all year as a family team," says Eccles. "My dad longes and my sister helps coach me, so we build on things together and learn through these competitions." Eccles sister, Hannah, is currently in 16th place.

Antje Hill of Germany moved from eighth to third place with her freestyle, in which she showed a lot of stamina in her balance exercises, such as the hand stands, and remained in harmony with her horse throughout her performance.

Alicen Divita of the United States had the second-highest freestyle score of 8.545. Combined with her compulsory score of 7.431, she is currently in ninth place. Performing a split along the horse's back, what Divita considers her signature move, along with other technically difficult exercises helped her move up from 15th place.

"It felt very calm," says Divita of her performance. "The strongest part was probably the middle split. It's a move no one else really does, and I just kind of hit it and held it for a really long time. It felt great."

Mary McCormick is the top U.S. vaulter in fifth place, and teammate Megan Benjamin is currently in the 11th spot. Benjamin's horse was still more energetic and forward than she would have liked him to be, forcing her to remove a couple of her more difficult exercises. However, she is looking forward to the second round of the competition, consisting of the technical test and freestyle final, with a positive outlook.

"I'm pleased with my performance," says Benjamin. "Part of the horse sport is dealing with the horses, and I did what I could with what I had. I really think I hit all my choreography, but I missed the difficulty. Those are some of the mistakes the judges see, but on my part, that's how I avoid falling off. Also, I don't want to land hard on him. We still have two rounds and the scores are pretty tight."

The men brought a lot of "character" to their freestyle round. Sebastian Andrews of the Republic of South Africa vaulted to a musical monologue from the most recent Batman movie, "The Dark Knight," dressed in the vibrant green and purple of The Joker, while teammate Kegan Smith showed his sense of humor by vaulting to a song from "Robin Hood: Men in Tights," dressed as the famous thief himself. And 18-time Swiss champion Patric Looser, who is currently in first place after the freestyle competition, took the crowd to space as an astronaut.

Nicolas Andreani of France is in second place but earned the highest freestyle score of the competition, an 8.985. His compulsory score of 7.824 gave him a first-round total of 8.405. Kai Vorberg of Germany is in third with a total of 8.366.

The highest-scoring U.S. vaulter is Todd Griffiths, who had a freestyle score of 8.330 to give him a total of 7.426, putting him in 10th place overall.

"It was definitely the best freestyle of the year for me," says Griffiths, who didn't start vaulting until he was 22 but has a strong gymnastic background. "For me it was [extra] special because in [Aachen] in 2006, my horse got me disqualified in the freestyle competition, so I've never been able to do my freestyle at the world championships."

The United States' Kenny Geisler, who had to change vaulting horses at the last minute because his original mount didn't pass the vet check, is in 12th with a total score of 7.281.

Kristian Roberts, also of the United States, is in 16th with a 6.791 after the first round of competition.

Individual vaulting continues on Friday with the technical test, followed by the freestyle final on Saturday. For full results from today's freestyle competition, visit www.alltechfeigames.com/results.
See all World Equestrian Games
vaulting news >>