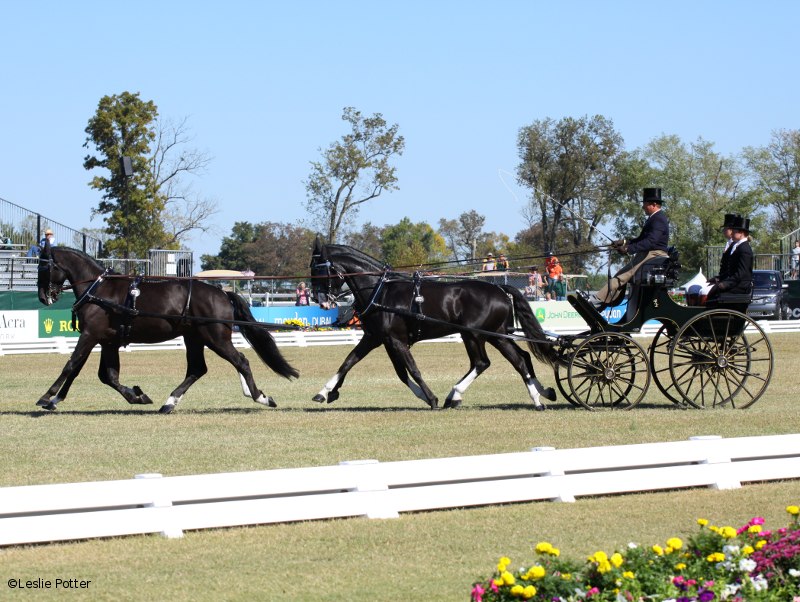 There were no surprises for the top spot on the leaderboard after the completion of combined driving dressage at the 2010 Alltech FEI World Equestrian Games on Friday. Australian Boyd Exell, the gold medal favorite, took an imposing lead with a score of 30.08. Exell and his mixed team of Warmbloods earned several tens throughout the test and placed first under all five judges.
Dutch driver Ijsbrand Chardon and American Chester Weber, the co-leaders after Thursday's competition, are now in second. In an unusual coincidence, another Dutch-American pair of drivers is sharing the next spot down on the scoreboard. Theo Timmerman and Tucker Johnson are tied for fourth.
Exell drives a team of black geldings consisting of a Holsteiner, an Oldenburg, a Gelderlander and a Holsteiner/Orlov Trotter cross. The horses range in age from seven to nine years old and are only in their second season of competition. Exell was pleased with how his horses performed in their dressage test.
"The horses tend to thrive in a big atmosphere," he explained. "They were sort of on rails today…I was sort of just a passenger."
Tucker Johnson earned the second-highest score of the day, positioning him to be one of the top contenders. When asked if he'd watched the previous tests and if he felt he'd be competitive, he was confident.
"I was able to watch the tests yesterday," he said. "I was pleased for my countryman Chester Weber. I thought there was a good chance I'd get a little closer than I did [to the top scores] but I'm very happy with my scores."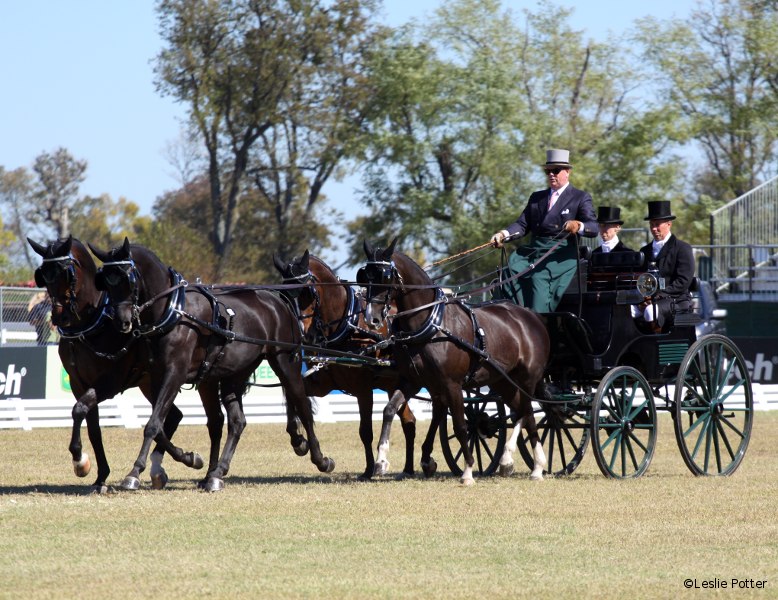 Johnson's horses are also a mixed group, ranging in age from six to 19. The six-year-old Black Shadow is owned by Boyd Exell, who loaned the horse to his competitor for the WEG. Exell only broke Black Shadow to carriage driving this spring, but in spite of his inexperience, Johnson says the horse has helped improve his team's dressage performance.
Johnson has announced that this World Championship will be his last, and after the WEG, he will retire from international competition. He plans to continue his longtime dedication to the sport of combined driving by coaching.
In Saturday's marathon phase, the teams will be tested on their ability to navigate eight hazards on a course similar to eventing's cross-county. The course at the Kentucky Horse Park is fairly open, allowing for long, fast stretches in between hazards. However, the hilly terrain means that drivers will need to rate their horses' speed to ensure they will have enough energy for the end of the marathon.
For full results, visit www.alltechfeigames.com/results.
See all World Equestrian Games combined driving news >>