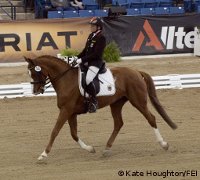 Click for larger image. Hannelore Brenner and Women of the World won the Grade III freestyle. Photo: Kate Houghton/FEI.
Music filled the covered arena today as the International Para-dressage competition continued at the 2010 Alltech FEI World Equestrian Games on the first of three days of top-class individual freestyle competition. The classes will wrap up on Sunday with a single medal ceremony. The para-dressage event began earlier this week with national team tests which ended on Thursday. British riders dominated today's grade Ia class with Emma Sheardown taking first place aboard Puppy's Dream with a score of 78.550%. Sophie Christiansen took second place aboard Rivaldo of Berkeley with a score of 77.850% and in third place, Anne Dunham on Teddy took third with a score of 74.800%. German rider Hannelore Brenner, riding a mare named Women of the World, won the Grade III class with a 79.200%.
Para-dressage is split into five grades—Grade Ia and Ib through grade IV—with grade Ia being for the most severely disabled equestrians and IV for the least impaired. American rider Kim Decker was the first American to enter the covered arena on Friday afternoon's grade Ia class. Riders in this level are mainly wheelchair users or have severe physical disabilities. Grades III and 1a competed in an 20- by 40-meter arena, considerably smaller than a standard dressage arena. Decker rode her adorable 16-year old chestnut gelding, Dashers Destiny. The pair finished up in 11th place with a 64.300 percent.
"I had a great ride," says Decker, who rode to a fun, upbeat tune. "I enjoyed the music and my horse tried so hard." Kim told journalists how she found the horse – a perfect match for her – on the Internet a few years ago at dreamhorse.com.

"He does everything that I ask," she said about the poised, quiet Hanoverian. "He's sweet and loveable and very attentive to me. He always seems to know what I'm asking for." Dashers Destiny was an experienced dressage horse when Kim bought him and brought him home to Centerville, VA.
Click for larger image. Kim Decker and Dashers Destiny. Photo: Kitson Jazynka
Before she was badly injured in a car accident in 1986 — two weeks before her graduation from high school – Decker rode hunter jumpers. After a long recovery, Decker made her equestrian comeback as in the para sport.
When asked how she was enjoying the World Equestrian Games, the Virginia rider quipped, "Well, it's just another horse show."
The second American to enter the arena in the grade Ia class was the highest ranked member of the U.S. team, Laura Goldman. Unfortunately this time around Goldman lost a stirrup during her test and ended up in 12th place with a 63.550%.
"I did what I had to do to keep myself from falling off," says Goldman, who for years has been in a therapeutic riding program. "I stayed on and I finished the test." Staying on was not easy as her mount, Trudy Phillip's striking 11-year-old black and white skewbald Irish Sport Horse gelding, Carlingford JD, opted to finish the test at a trot instead of the prescribed walking pace.
"He's Irish," said Goldman, "and he has a mind of his own." When he's not competing in para, JD is a Prix St. Georges-level dressage horse.
Goldman also took time to explain some special equipment she uses to ride JD. Para-riders are allowed to use "dispensation aids" to help them perform the movements required in a dressage test. "I use a neck brace," she explained, "as well as a neck strap that I can grab if necessary, and I have something in my boots for extra support." She also had custom ladder-shaped reins that help her grip with limited hand strength.
For full results, visit www.alltechfeigames.com/results
See all World Equestrian Games para-dressage news >>