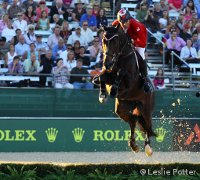 Click for larger image. Canada's Eric Lamaze clears the liverpool with Hickstead on the way to winning the final qualifier for the individual show jumping championship. Photo: Leslie Potter
Canada's Eric Lamaze proved on Friday that his 14-year-old partner, Hickstead, is every bit as sharp as he was two years ago when the pair captured the individual gold medal at the Beijing Olympics. Despite riding with a broken foot, Lamaze delivered two clear rounds in the third and final qualifier for Saturday night's individual World Championship at the Alltech FEI 2010 World Equestrian Games, here in Lexington, Kentucky, bringing the house down in a packed stadium.
Adding nothing to his original point score of 3.11 penalties, earned in the first day of showjumping in the speed class, Lamaze now leads the pack going into the heart-pounding finale, in which the top four riders will each demonstrate their prowess riding each other's horses.
Each of the four finalists will have less than five minutes, and only two jumps, to adapt to each of three new mounts, after which he will have to enter the ring and ride a full course of fences.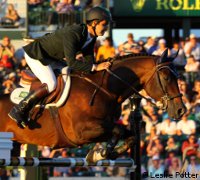 Click for larger image.Rodrigo Pessoa and HH Rebozo. Photo: Leslie Potter
It is a format unique to the World Championships and a true test of horsemanship, not only for Lamaze but also for the three other finalists: Belgium's Philippe LeJeune (with Vigo D'Arsouilles, a 12-year-old Belgian-bred stallion), Brazil's Rodrigo Pessoa (with HH Rebozo, a Mexican-bred stallion formerly ridden by the USA's Candice King), and the Kingdom of Saudi Arabia's Abdullah Al Sharbatly (with the 11-year-old mare, Seldana Di Campalto, who until six weeks ago was a member of the Italian team). Their scores were 4.11, 6.80, and 7.07 respectively.
About the format, Lamaze remarked, "We all know what you have to do if you get here (to the World Championships). The horses will have to do a lot of work to jump for each one of us, but I think it's a great test and a great way to determine a world champion. For me, Rebozo will be the easiest to ride, I think, because he's similar to the type I'm used to. Philippe's horse will probably be the most difficult because I don't tend to ride big horses.
"But all four of the horses are well-trained, and we're familiar with them to some extent because we've all seen them go many times at the shows. I think everyone will be very honest about their horses."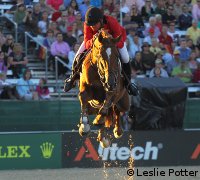 Click for larger image. Phillipe LeJeune of Belgium with Vigo D'Arsouilles. Photo: Leslie Potter
Pessoa agreed, "It's not to anyone's advantage to hide anything about their horse. It's about fair play and being fair to the horses."
All three of Lamaze's compatriots seem eager to have a go riding Hickstead. "I fancy riding Hickstead," said Pessoa. "He's just a fabulous horse and has such a great partnership with Eric. He looks like fun."
While LeJeune, Lamaze, and Pessoa are familiar faces at the top of the leaderboard, Al Sharbatly will be the dark horse on Saturday night. The 28-year-old Saudi has had only two shows to forge a partnership with his superstar mare, who was purchased with an eye towards the Saudi Arabian team qualifying for the 2012 Olympic Games in London. Of all the showjumping competitors at the Alltech FEI 2010 World Equestrian Games, Seldana Di Campalto was the sole equine to produce five clear rounds.
"I know people do not know me as well. I am based in Saudi Arabia and have only been (in Europe) two months, but I have made the decision to stay in Europe a year to train as a professional now," said Al Sharbatly, who flashed a smile with braces. "I hope I will be a success. I don't know my mare well, and she is not the easiest. I did not push her here, I did not exaggerate.
"I am so happy to be with these three great riders, and tomorrow I think you'll see a surprise," he promised. "I don't want to think about how to ride the other horses today! I will leave it for the last moment tomorrow. I know that even if you ride perfect, you will need a bit of luck to win. But I think we will have fun."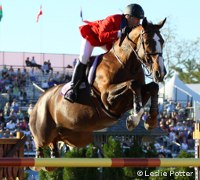 Click for larger image. McLain Ward and Sapphire had a perfect night to climb their way into seventh place. Photo: Leslie Potter
Though American pride has been a little wounded during these Games, McLain Ward and Sapphire gave cause for a deafening roar of cheering, and a good amount of flag-waving from the hometown crowd tonight. The sole representatives of the United States to advance to this individual qualifying round, they began Friday's competition in 26th place, and ended up a very creditable seventh, after posting two faultless rounds.
Stay tuned for the exciting finale tomorrow night.
See all results at www.alltechfeigames.com/results
See all World Equestrian Games show jumping news >>