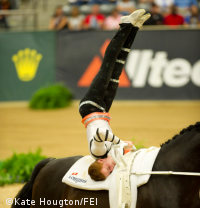 Click for larger image. Patric Looser of Switzerland maintained his lead after Friday's competition. Photo: Kate Houghton/FEI
Patric Looser of Switzerland is still in the lead after the technical test in the men's individual vaulting competition.
"I am very happy with my technical test because it's not usually my [specialty]," says Looser. "I know I can win a compulsory, and I can win a freestyle and be in front, but the technical is what I have to work on. I'm really happy that it worked like this today. I'm still in front, so that's very nice."
Close behind in second is Germany's Kai Vorberg, followed by Nicolas Andreani of France. With his face painted white and wearing the iconic costume of internationally acclaimed mime Marcel Marceau, Andreani was in character from entrance to exit in his tribute to the late French actor.
"My technical today could have been a little better," says Andreani, who strives to emphasize composition and performance over technical difficulty. "I accomplished all five technical figures very well but could have done just a little bit better in the transitions between them."
Todd Griffiths is the leading U.S. vaulter in 11th place, and Kenny Geisler is currently in 12th place.
In the women's technical test, Joanne Eccles of Great Britain reclaimed first place but says she is up against some tough competition, and with one more freestyle round remaining, it could go in any direction.
"I think the competition has been full of ups and downs [for me]," says Eccles. "The first day I did really well, but the second day I wasn't happy with my performance so much. Today, I am happy again. I didn't feel like my performance yesterday was up to the mark; it's not what I can usually do. So I went out today just to enjoy the competition, and I really did."
Antje Hill of Germany moved up from third to second place, and her teammate Simone Wiegele, who was in first after Thursday's freestyle, is now in third.
"In the beginning, I felt very strong and everything went well like yesterday, and then there was a little wobble in the middle," says Wiegele of her performance.
Hill was very confident about her technical test. "I'm extremely pleased because I had a somewhat rough warm-up, but I was able to completely separate myself from [it] and execute a perfect ride," she says.
U.S. vaulter Mary McCormick is currently in fourth place and says she's feeling the pressure of being just out of the medals with only one performance left. Teammate Megan Benjamin is in fifth place, and after two rocky performances as a result of her horse being too energetic, she felt much more secure and satisfied with today's technical test. Alicen Divita, also of the United States, is currently in sixth place.
The team freestyle competition in the afternoon took the sport of vaulting to an even higher awe-inspiring level. Not only do the vaulters need to work in harmony with the horse, but they must also be in-sync with each other, as they are executing difficult lifts, twirls, flips and cartwheels with as many as three vaulters on the horse at a time. Out of the seven team members, six can participate in the freestyle.
Germany took over the lead, with Austria in second and the United States dropping down to third after a disappointing fall.
"We had horse troubles today," says team coach Devon Maitozo. "We struggled through our freestyle because our horse was shying at a camera. Every time on one side of the ring he would cut in, and during one of my very high parts he cut in significantly, so we had a major fall. We had to be very careful through the entire [performance] and it did affect us, so we're bummed. Physically we're fine. Mentally we'll recover. On Sunday we have a great opportunity to take back our lead, and we plan on doing that."
The team competition ends with the freestyle final on Sunday, following Saturday's individual freestyle final. For full results from today's event, go to www.alltechfeigames.com/results.
See all World Equestrian Games vaulting news >>