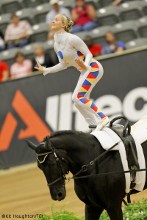 Click for larger image. Joanne Eccles of Great Britain won individual gold at the World Equestrian Games. Photo: Kit Houghton/FEI
Joanne Eccles of Great Britain held on to her lead in the women's individual vaulting competition at the 2010 Alltech FEI World Equestrian Games (WEG) to take home the gold medal, the first individual vaulting WEG medal for her country. Antje Hill and Simone Wiegele earned silver and bronze respectively for Germany.
"I think I'm a little bit stunned," says Eccles, who performed to the Princess Diana version of "Candle in the Wind" by Elton John. "I was really pleased with my performance, but the other girls are so strong, and they all did so well. I think it's going to take a while for it to sink in."
American vaulter Mary McCormick finished just out of the medals in fourth place, with teammate Megan Benjamin behind her in fifth and fellow U.S. vaulter Alicen Divita in seventh.
"It's a bummer, but I came into this competition saying I wanted to do my best," says McCormick of not taking home a medal. "I feel like I did that, and I'm not disappointed." McCormick plans on heading to the 2014 games in Normandy, France, but for now the goal is to relax and take her competition horse, Sir Anthony Van Dyck, on a lot of trail rides.
In the men's vaulting final, Patric Looser of Switzerland finished in the top position to win the gold medal, while Kai Vorberg of Germany, who happens to be Looser's close friend and coach, finished second for the silver. France's Nicolas Andreani took the bronze medal.
"I can't tell you really what's going on," says Looser of his feelings about winning the gold medal. "It's a strange feeling."
Both Looser and Vorberg's moving medal-winning routines were created with the audience in mind. "When I saw this arena a year ago, I thought I needed something special," says Looser of his astronaut theme. "It needed something that shines, so I wore the silver [astronaut outfit]. And it's in America, and I wanted to give the American people an American theme, so that's why I chose the astronaut and space theme."
Vorberg combined a dramatic classical song with historically profound statements made by politicians such as John F. Kennedy, Jr., and Ronald Reagan when Germany and the United States joined forces to bring down the Berlin Wall. "I wanted to express somehow the relationship between the United States and Germany because only the United States made it possible that Germany could be reunited and be a free country."
The United States' Todd Griffiths and Kenny Geisler finished in 10th and 13th, respectively. Both now plan on taking up coaching positions, with no definite plans about the 2014 games in France.
For complete results from the individual vaulting championships, visit www.alltechfeigames.com/results. The team vaulting competition ends on Sunday with the freestyle final.
See all World Equestrian Games vaulting news >>