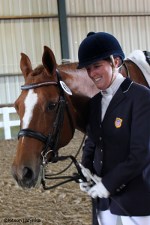 Click for larger image. Mary Jordan and her home-bred Paxton Abbey competed in the Grade IV freestyle. Photo: Kitson Jazynka
Eight years ago New England dressage and event rider Mary Jordan became the third person in her family to be diagnosed with Multiple Sclerosis, a chronic neurologic disorder that affects approximately 440,000 in the United States. Jordan, who was left unable to stand or walk after a botched spinal tap, learned to walk again and works hard to stay healthy so she can ride. She rode into the arena during Sunday's individual freestyle para-dressage competition, Grade IV, at the 2010 Alltech FEI World Equestrian Games. It was the third day of classes which concluded Sunday with a single medal ceremony. For Grade IV, the gold medal went to British Rider Sophie Wells with a 78.500 percent. Belgian rider Michele George won silver with a 78.050 percent and Frank Hosmar will take home the bronze after earning a 77.250 percent.
Jordan, aboard her 12-year old chestnut home-bred mare, Paxton Abbey performed a moving freestyle test which earned them 15th place with a 66.00 percent. Jordan stopped to chat with journalists after her freestyle "I ride to be a living, breathing example of what someone with MS can do. Paxton is my conduit and my loyal competition partner," she said.
"The more we get to show in front of American judges and lay down solid performances," said Jordon, "the more the sport will grow. I hope we can ignite a passion and build support for para-equestrians moving toward the London in 2012."
Jordan and her horses make their home in Wells, Maine. When asked about her horse, the chestnut mare Paxton Abbey, Jordan explained that Paxton was the first horse she bred herself – the Hanoverian cross filly was born in her lap. "I own the mother," she said. "It's an incredible feeling to take a horse that I bred from home to FEI."
Years ago, Jordan bought Paxton's mother, who she named Nut Brown Ale, as a weanling. "I couldn't afford an expensive performance horse, so I bought the best foal I could find and read a lot of Reiner Klimke books." Nut Brown Ale became a champion eventer in the Northeast and also served as Jordan's trusted fox-hunting horse.
"I wanted to build on her strengths and disposition and breed her to the nicest Hanoverian stallion I could find. "As para and amateur rides, we have to bank on a horse with a good disposition," she said.
Also representing the U.S. in Sunday's Grade IV class, 33-year old Susan Treabess, who is missing her left hand. Susan brought a little spunk and a lot of smiles to the arena when she and her KWPM mare, Moneypenny rode a fun freestyle to cabaret and can-can music, earning them 10th place with a 69.650 percent. "She's a mare and I'm a girl, so there's nothing better than the can-can," said Treabess. "I'm really happy that we ended with a great ride. She was on today. Her canter work and lateral work is her strength so we designed the test around that, and to me, the music is all about fun."
USDF gold, silver and bronze medalist Robin Brueckmann rode her freestyle on Raison d'etre a 12-year old Lexington-bred gelding owned by her trainer, Elly Schobel. The only Lexington-bred horse in the 2010 World Equestrian Games, the elegant, tall chestnut is three-fourths Thoroughbred and one-fourth Holsteiner. The pair earned 14th place with a 68.500 percent.
Jennifer Baker came in 18th place after a lovely test aboard Kranak, a retired Grand Prix dressage horse owned by Akiko Yamazaki. Yamazaki also owns Ravel, one of the top dressage horse in the U.S., who is ridden by Steffen Peters. Kranak, an 18-year old dark bay KWPN gelding was Yamazaki's Grand Prix mount for the last five years, until his retirement last May. "This is the first time I've been involved with para dressage and it's been a wonderful experience. The riders are amazing," said Yamazaki. "Jen really knows how to use her body and she has done a great job with Kranak."
Kranak will now return home to his retired status in California, where he lives at Yamazaki's farm with her other retired horses, including the former dressage champion Lombardi. When asked if Kranak is a half-brother to Ravel, Yamazaki laughed and said, "Well, they do have the same mom."
For full results, visit www.alltechfeigames.com/results
See all World Equestrian Games para-dressage news >>
WEG Para-Dressage Medal Standings

Team
Grade 1a
Grade 1b
Great Britain
Sophie Christiansen (GBR)
Lee Pearson (GBR)
Germany
Anne Dunham (GBR)
Ricky Balshaw (GBR)
Denmark
Emma Sheardown (GBR)
Jens Lasse Dokkan (NOR)
WEG Para-Dressage Medal Standings

Grade II
Grade III
Grade IV
Petra van de Sande (NED)
Hannelore Brenner (GER)
Sophie Wells (GBR)
Britta Napel (GER)
Annika Lykke Dalskov (DEN)
Frank Hosmar (NED)
Caroline Cecilie Nielsen (DEN)
Sharon Jarvis (AUS)
Henrik Weber Sibbesen (DEN)