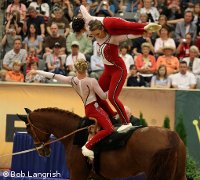 Click for larger image. The United States vaulting team won its first-ever World Equestrian Games gold. Photo: Bob Langrish
The United States made a strong comeback in the team vaulting competition at the 2010 Alltech FEI World Equestrian Games to reclaim first place in the final freestyle round and win the first vaulting team gold medal for their country. Germany dropped to second place to take the silver medal after a disappointing fall, and Austria finished in third for the bronze medal.
Performing a routine loosely based on Shakespeare's play Romeo & Juliet to music from Prokofiev's play, team USA choreographed a dance on horseback rather than executing a series of required technical movements to music.
"For us it's about the connection to the music, to each other and bringing in the audience," says team member and coach Devon Maitozo. "It's not for the judges. It's for us and for the audience, and to really connect as artists."
After a difficult freestyle performance on Friday, in which their horse spooked at the TV camera at the edge of the ring and cut in on the circle, causing a major fall during the routine, team USA was disappointed but determined to return with a solid performance today.
"We started off on a very nervous horse, so we tried to address that in the warm-up [today] and it really worked," says Carolyn Bland, the longeur for the United States. Maitozo purchased the12-year-old Westphalian, Palatine, in Germany in 2007 and says the horse immediately took to the sport of vaulting.
"The team also changed a little bit of our focus on our warm-up," adds Maitozo. "The day before yesterday, we were focusing on details and it got a little overwhelming. But today we came into the arena with a different energy. We were calm, relaxed and grounded, and we were able to access the training we've had this year.
"We're just really happy," continues Maitozo. "We hit most of our points. We really connected today. We looked each other in the eye, our horse was beautiful, and we had the love of the audience with us."
Of winning the first team gold medal for the United States, Maitozo says, "The most amazing thing is sharing this with my team. They've really earned this, and I'm very proud of them." Maitozo, 35, is the oldest team member, with a 21-year age difference between him and the youngest team member, Emily Hogye, who is 14.
"It's kind of cool to be on a team with people who are so experienced because you learn a lot," says Hogye. "Not just about a higher level of vaulting, but everything in life."
For full results from Sunday's team vaulting competition, visit www.alltechfeigames.com.
See all World Equestrian Games vaulting news >>
WEG Vaulting Medal Standings

Team
Ind. Female
Ind. Male
United States
Joanne Eccles (GBR)
Patric Looser (SUI)
Germany
Antje Hill (GER)
Kai Vorberg (GER)
Austria
Simone Wiegele (GER)
Nicholas Andreani (FRA)