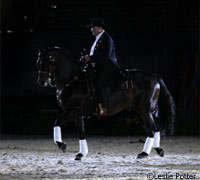 Eitan Beth-Halachmy and Morgan stallion Santa Fe Renegade perform in the opening ceremonies at the 2010 Alltech FEI World Equestrian Games. Photo: Leslie Potter
Eitan Beth-Halachmy was scheduled to perform demonstrations and clinics throughout the 16 days of the Alltech FEI World Equestrian Games. Instead, he spent most of that time in a Lexington hospital bed.
Beth-Halachmy performed in the WEG opening ceremonies on September 25, but exited the arena early, then collapsed and fell from his Morgan stallion, Santa Fe Renegade. Paramedics were at the gate and treated him immediately on site before he was brought to the hospital. He hit a barrier when he fell from his horse, damaging his spleen. Reports from the site state that his heart had stopped, but the paramedics were able to save his life.
The collapse appeared to be a side effect of an irregular heartbeat that Beth-Halachmy has dealt with for many years and for which he is on medication. He went into ventricular fibrillation after his performance and would have had a very small chance of survival and recovery without the immediate attention from paramedics.
Beth-Halachmy remained in critical condition for a few days and required surgery to remove his spleen. He recovered gradually and was released from the hospital on October 9, just before the end of the World Equestrian Games. He is currently regaining strength in Lexington before he will return home to his Wolf Creek Ranch in California.
Santa Fe Renegade was not injured in the incident and remained in Lexington in the care of friends while his rider recovered. Beth Halachmy and Santa Fe Renegade also performed at the 2006 WEG opening ceremonies in Aachen, Germany, and have reportedly been invited to the 2014 games in Normandy, France.
For updates on Beth-Halachmy or to leave well-wishes for him, visit /redirect.php?location=http%3a%2f%2fwww.caringbridge.org%2fvisit%2fcowboy8
For more information on cowboy dressage training and clinics, visit www.cowboydressage.com