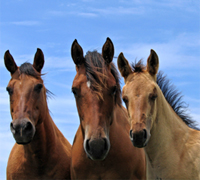 For more than 20 years, volunteers at Maryland's Days End Farm Horse Rescue have worked with abused and neglected equines to help them find a better life. The prominent rescue will be recognized for its work at the American Society for the Prevention of Cruelty to Animals (ASPCA) awards luncheon in New York City this November.
Days End now operates out of a 58-acre farm in Woodbine, Maryland, where between 50-70 horses are housed at any given time. Horses are evaluated, handled and worked under saddle if they are physically capable. Some horses are sent off-site for fostering or training. Once a horse has been determined to be safely adoptable, they are made available to prospective adopters. Days End only adopts horses out to homes within the state of Maryland or within 100 miles of the farm. Days End takes back any horses that don't work out at their adoptive home so that they can be re-evaluated and put up for adoption again until the right match is found.
With so many equine rescues in operation, and many going under due to mismanagement, Days End's long history is a testament to the sound practices of the organization. They have received a four-star rating from Charity Navigator, an organization that evaluates non-profit organizations based on their financial responsibility and their prospects for continuing to operate in the future.
The Henry Bergh Award is given to a person or organization who "not only works on behalf of animals, but also galvanizes those around him or her to contribute to the care and well being of animals."
Learn more at www.aspca.org