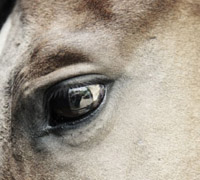 When horses arrived at Hidden Meadows Equine Rescue in Berkeley County, West Virginia, they should have been safe from their past neglect. Last week, the county's Animal Control discovered that wasn't the case.
More than fifty horses and two cows were seized by animal control after reports of emaciated animals led the sheriff's department to investigate. According to reports, the animals had no access to food or water. Six dead horses were found on the property, and another had to be euthanized due to poor health.
According to a Sept. 15 article in the Hagerstown, MD Herald-Mail, there are currently no charges against the operator of Hidden Meadows, Mary O'Brien, but the case is under investigation. O'Brien claims that the animals were in worse condition when they came to her than they are now, but investigators obtained a photo of one of the most severely emaciated horses that showed him in near-perfect health two months ago.
The horses are being put up for adoption as they are cleared by a veterinarian to be healthy enough for travel, and many have already found homes in the local area. The Berkeley County Sheriff's Department made the unusual decision to allow the horses to be adopted for free. Potential adopters do have to fill out an application and will be required to allow animal control officers to visit the property where an adopted horse is living.
For more information on making a donation or adopting any of the surrendered Hidden Meadows horses, call the Berkeley County Animal Control Office at 304-263-4729.