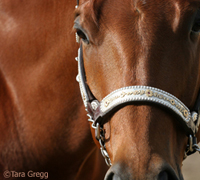 Quarter Horses from around the country are in Ohio this month for the All-American Quarter Horse Congress, the largest single-breed show in the world.
The Congress lasts three weeks and is currently entering its final week for the 2010 edition. Beyond the show pen, where Quarter Horses are exhibited in the full spectrum of English and western events, the Congress also hosts AQHA races, a youth tournament, horse judging contests, a horse sale, and the famous Congress trade fair.
The Congress attracts more than 8,500 Quarter Horses and boasts 17,000 horse show entries.
All events are held at the Ohio Expo Center in Columbus and admission is $25/carload.