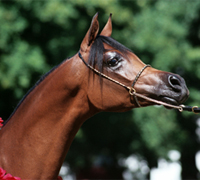 One of the Arabian breed's largest North American shows is underway this week in Tulsa, Oklahoma. The U.S. National Championship began on Friday and runs through Saturday. U.S. Nationals is one leg of the Arabian triple crown, along with Canadian Nationals and the Scottsadale Arabian Horse Show.
The show is available for live, online viewing at seehorsevideo.com. Competition takes place in three different arenas, and online viewers can choose which arena to watch. There is no cost to watch the show online.
According to the Arabian Horse Association, U.S. Nationals attracts approximately 1,700 horses to compete in a variety of disciplines, including reining, cutting, trail, pleasure driving, and hunter, western and saddle seat pleasure classes. The National Championships for Arabian and half-Arabian sport horses, which includes hunters, jumpers, dressage and carriage driving, were held at a separate show in September.
Visitors to the show in Tulsa can get in free to the trade fair, the Ford Truck Arena, and the Mustang Arena. Tickets for classes in the main Pavilion Arena from October 28-30 are $10 or $7.50 for students and seniors. Kids under 12 are admitted free.
Other activities at the show include a judging contest for Arabian Youth, 4-H and College judging teams, and an equestrian fashion show in the shopping expo on October 27.