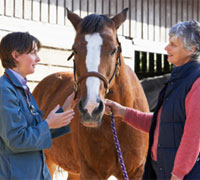 Horse owners depend on their veterinarians for the expert guidance and ongoing care that helps them keep their horses healthy and performing at their best. Equine vets and veterinary technicians work long hours and often drive countless miles to help clients with both routine and emergency care. Outside of that, many vets and vet techs work to improve the lives of horses everywhere by volunteering their services and knowledge to horse rescues or other charitable organizations.
Bayer Animal Health will be recognizing one veterinary professional along with four other finalists with the Legend of the Year Award. The winner will receive a $5,000 donation to the equine charity of his or her choice. If your vet has gone above and beyond for your horses or others, submit a nomination form at
mylegendaryhorse.com
and tell the world why your vet is a legend. Nominations are due by Sunday, October 31. The winner will be announced at a special presentation during the American Association of Equine Practitioners (AAEP) convention on December 5, 2010.
Also at mylegendaryhorse.com is the Legend quiz. Answer a few questions about the equine in your life and find out which historical legend, such as Ben Franklin or Amelia Earhart, matches up with your horse's unique personality.