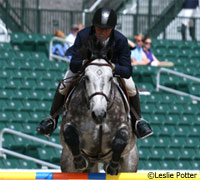 Todd Minikus was the winner of the 2009 President's Cup Grand Prix at the WIHS. Photo: Leslie Potter
From October 26-31, top hunter/jumper competitors are in the nation's capital for the historical Washington International Horse Show.
For more than 50 years, the WIHS has been a fixture on the United States horse show circuit. In the early days of the show, classes for hunters, jumpers, Saddlebreds and driving were all included. Today the show is strictly a hunter/jumper show, but exhibitions and demonstrations bring other disciplines into the main arena. This year, exhibition events include polo, four-in-hand driving and dressage freestyle.
One of the show's highlights is the $100,000 President's Cup Grand Prix, held as the grand finale of Saturday evening's session. Many top international Grand Prix riders compete in this prestigious class, including Olympic and World Equestrian Games medalists. Last year's winner was American rider Todd Minikus on Alaska.
The show offers many fun events outside of the traditional show classes.
Terrier races take place every evening from October 28-30. This crowd favorite puts Jack Russell Terriers in a short but fast race as they chase a lure and through the chute to where their owners wait on the other side.
Friday evening's puissance challenges riders to clear a jump that increases in height each round. Riders are eliminated if they don't clear the jump. The height keeps going up until all riders but the winner have been eliminated. The current indoor puissance record of 7'7″ was set by Tony d'Ambrosio and an off-track Thoroughbred named Sweet 'n Low at the 1983 WIHS.
Thursday night is Barn Night where young riders and friends and families of regional stables are invited to show their barn pride. Awards will be given to the largest group, the best banner, the best costumes, and a video contest. Spectators on Barn Night will enjoy a demo by combined driver Chester Weber and the Gamblers' Choice Costume Class, along with the rest of evening competition.
October 30 is Kids' Day at the WIHS with pony rides, arts and crafts, a horse grooming station, and more.
The World of the Horse presentations will take place on Sunday, October 31 after the morning classes. The presentation will include saddle seat, barrel racing, side saddle, dressage and more.
Daytime tickets are $15 for general admission. Kids 12 and under are admitted free. Evening tickets range from $10 for kids to $50 for adult VIP tickets. For more information, visit www.wihs.org/tickets.
For more information on the show, including schedule and results, visit www.wihs.org.