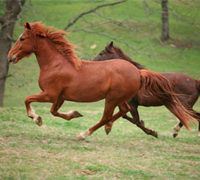 The American Association of Equine Practitioners Foundation has awarded $262,000 in grants to 15 non-profit organizations and universities working for the health and welfare of horses. These 2010 grant recipients share the Foundation's mission to support equine research, benevolence, education and the equine community.
From funding laminitis research to sponsoring an "equitarian" mission in Mexico, the Foundation is supporting a wide range of initiatives in 2010 and 2011 that are improving equine welfare. The Foundation has teamed with the Unwanted Horse Coalition to launch Operation Gelding, a program that assists clinics in providing free castration services for stallions. Meeting the research priorities of equine veterinarians, the Foundation has committed funding for the 10th Annual International Colic Symposium, a veterinary meeting focused on colic research scheduled for July 2011.
In addition, the Foundation is supporting an "equitarian" workshop, designed for practitioners interested in volunteering veterinary services in struggling communities with working equids, being held near Vera Cruz, Mexico. Investing in future industry technologies, the Foundation is assisting Colorado State University and Equine Guelph with the development of International Equine Biosecurity Risk Calculator, an interactive online assessment tool designed with the goal of providing equine operation owners or managers with a way to objectively evaluate their biosecurity programs.
Groups including the American Quarter Horse Foundation, Morris Animal Foundation, American Youth Horse Council, World Equine Veterinary Association, National FFA, The Race For Education and the Grayson-Jockey Club Research Foundation are among others that are receiving funding from the Foundation. In a continued effort to promote the veterinary profession, the Foundation is allocating funding for a number of student programs, including dentistry and farriery short courses, scholarships, and activities stipends for AAEP student chapters.
For a complete list of grant recipients and Foundation-supported programs, click here.
"We are very pleased to once again offer funding to so many worthy programs and organizations," said Wayne McIlwraith, BVSc, Ph.D, DSc, FRCVS, Diplomate ACVS, AAEP Foundation Chairman. "The funds awarded by the AAEP Foundation would not be possible without the generous support of our many donors."
All donations to the AAEP Foundation go directly to helping horses and their caretakers. Grants are distributed annually so that donors can see the fulfillment of their contributions to the Foundation. The 2010 grant recipients were selected by the AAEP Foundation Committee and the Foundation board during their late-summer meetings.
For the past 16 years the AAEP Foundation has allocated more than $1.8 million in grants to programs that promote the health of horses. Grant applications for 2011 will be available at www.aaepfoundation.org in early February.
The AAEP Foundation, Inc., a 501(c)(3) organization, was created in 1994 as the charitable arm of the American Association of Equine Practitioners. The AAEP Foundation's mission is to improve the health and welfare of the horse through support of research, education, benevolence and the equine community.