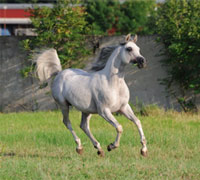 Horse owners in Montana are unsettled after two separate incidents of horses' tails being cut off during the past month.
Two horses in the town of Three Forks had their tails cut off on October 17, and a third lost part of his mane. A horse in Dillon had his tail cut off earlier this fall. Bob and Connie Riley, owners of the Dillon horse, have put up a $500 reward for information leading to the thief or thieves. Information should be given to the Beaverhead Sheriff's Department at 406-683-3700
In all cases, the tails were cut off just below the bone so the horses were not injured in the incidents. However, they will take years to grow back and leave the horses with very little defense against flies in the meantime.
The tail thefts may be a random act of vandalism, but it is also possible that the thieves plan to sell the tail hair to crafts people. Horse hair is used for decoration on belts, bridles, and other western-themed items. A long tail can also be sold to make a tail switch to supplement the natural hair of show horses in some breeds and disciplines.
In an unrelated incident, an Arabian horse competing at the U.S. Nationals in Oklahoma had its tail cut off just below the bone. The horse was uninjured, but was left without fly defense, and without the long, flowing tail favored in the Arabian show ring. Tail switches are prohibited in the show ring for Arabians. In this case, the theft appears to be an act of sabotage.
According to an article on TulsaWorld.com, the horse still went on to show without the tail and placed in the top ten.
Implementing theft prevention techniques around the farm may also deter vandals and thefts who commit this type of crime. Using motion-activated lights around the farm and driveway, limiting access to pastures and stable area from the road, and networking with neighbors who will help recognize unusual activity at the farm will make the property less vulnerable. For more tips on preventing horse theft, click here.