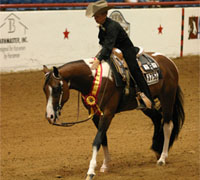 Visitors to the American Paint Horse Association (APHA) Fall World Championship Paint Horse Show will be treated to a colorful showcase of the best horses and riders in Paint Horse competition. Featuring nearly a thousand horses, this year's Fall World Show will take place November 4-13, 2010 at the Will Rogers Memorial Center in Fort Worth, Texas.
The APHA Fall World Championship Show is a competition between the best Paint Horses we well as a gathering of breeders, owners and exhibitors from around the world. The horses at this level of competition provide a diverse representation of horse that has made APHA the second-largest breed registry in the United States.
Open and Amateur competitors will be the focus of this show, in addition to the big payout classes such as the Slot, Challenge and Breeders' Trust Futurity classes. Over $450,000 in cash and prizes will be awarded during the 10-day competition.
APHA has added 15 World Championship classes, 13 of which are classes for Amateur competitors. Two new Slot classes were added, along with a barrel racing jackpot and 12 new Breeders' Futurity classes.
Challenge Classes
Two of the challenge classes feature younger Paint Horses who are making their name known early in their careers. The 3-Year-Old Hunter Under Saddle Challenge and 3-Year-Old Western Pleasure Challenge consists of some of the finest English and Western pleasure horses in the country. APHA adds $5,000 to each Challenge class. For a complete class schedule visit: www.APHAWorldShow.com/Fall
The Hart Non-Pro Versatility Challenge is a class designed to showcase the versatility and athletic nature of the American Paint Horse and the riders. Each horse-and-rider team will compete in four events—hunter under saddle, Western pleasure, reining and barrel racing — with a grand prize of a new Hart horse trailer.
Breeders' Trust Select Sale
On Saturday, November 6, the Breeders' Trust Select Sale will offer 48 Paint Horses enrolled in the APHA Breeders' Trust program to be sold through a live auction in the John Justin West Sale Arena. The showcase preview will begin at 1:00 p.m., the sale begins at 2:00 p.m. The Breeders' Trust Select Sale catalog is online at aphaworldshow.com/fall/sale to preview the horses available.
Also making an appearance at the show is the donated filly, A Catty Quixote, who is being auctioned off to raise money for Youth scholarships through USAhorseauctions.com, Lot#65 through Sunday, November 7 at 5:00 p.m. (CST).
Special Events

During the show, APHA will have the new "On The Road" satellite program located in the John Justin Arena concourse from 9:00 a.m. – 6:00 p.m. to do business such as registrations, transfers, subscriptions and memberships. This face-to-face business center will be staffed by the knowledgeable APHA staff. To find out what paperwork is needed, contact our APHA Registration Department at (817) 222-6423.
The American Paint Horse Foundation will host a Therapeutic Riding Demonstration on Saturday, November 6 in the John Justin Arena. This inspirational demonstration will feature the various ways that this type of equine therapy has helped people recover and improve balance, coordination and confidence through the use of horses.
The "world championship" dog races have become a huge hit with the World Show fans, the number of entries grow each year. Come watch the hilarious introductions and antics of the dogs involved and cheer for your favorite. This year they are schedule for November 8 and 12, check the schedule of events for times.
On November 11, Veteran's Day, the show will take time to honor the servicemen and woman and their families during a special presentation in the John Justin Arena. During the entire show, a donation drive will take place for the Rope Afghanistan Project. A donation box will be located in the concourse of the John Justin Arena to place ropes, roping dummies and monetary donations to send to the troops in Afghanistan who are involved with the project. To find out more about this project, see facebook.com and search for "Rope Afghanistan" or call the APHA Media Office at (817) 348-8725.
More about the Fall World Show & APHA

For the 10-day Fall World Show, Paint Horse enthusiasts and their families from around the nation and internationally will meet in Fort Worth, Texas, to compete in a full array of disciplines both on the ground and aboard their American Paint Horses for World Champion titles, great prizes, and fun. Keep up with all of the latest Fall World Show news at aphaworldshow.com/fall.
Since APHA was founded 48 years ago, it has registered nearly 1 million American Paint Horses at a rate of around 30,000 horses per year. The Association currently serves approximately 76,000 active members in 59 nations and territories. APHA works not only to record Paint Horse pedigrees, but also to preserve and promote the history, breeding, training, racing, showing, sales and enjoyment of American Paint Horses. To learn more about APHA and how to become a member, contact the Association at (817) 834-2742, or visit apha.com.