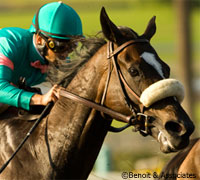 Formerly undefeated Thoroughbred race horse Zenyatta ended her racing season, and possibly her career, with a close but disappointing second place on Saturday, November 6 at the Breeders' Cup in Louisville, Kentucky.
Fans of the six-year-old mare hoped to see her win her 20th consecutive race and second Breeders' Cup Classic. Zenyatta's signature style is to hang at the back of the pack, then pull out all the stops at the final turn to rocket to the finish in front. This was what happened on Saturday's race, but she didn't quite make it to the front, narrowly losing to a 4-year-old colt named Blame.
Jockey Mike Smith was in tears after the race. "It's my fault," he said. "She should have won and it hurts."
Zenyatta was the favorite to win the Classic and is still a top choice for the coveted Horse of the Year title. She was a strong contender for last year's title, but lost to the then-three-year-old filly Rachel Alexandra. In this year's Classic, Zenyatta was the only female horse in the field and was also the oldest.
Ann and Jerry Moss, Zenyatta's owners, had intended to retire her at the end of last season. However, she was still working well and had acquired a sizeable fanbase, so they opted to give her another season. This proved to be a good decision when Zenyatta won her 17th consecutive race, breaking the record previously held by Cigar, Citation, Hallowed Dreams and Mister Frisky. She continued her streak and broke her own record twice, winning her 18th and 19th races.
Zenyatta's critics often pointed out that she had rarely had to run against the best horses, and that she had not proven herself on a dirt track, having run primarily on synthetic. Although she did not win on the dirt at Churchill Downs, her jaw-dropping push to the finish and the mere inches by which she missed the win are arguably proof that she is capable of competing both on dirt and with the best horses in the world.
No official announcement has been made on whether or not Zenyatta's racing days are over. Blame, however, will be retired to stud.
For full Breeders' Cup coverage and a video of the Classic, visit ThoroughbredTimes.com