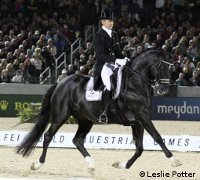 The Fédération Equestre Internationale (FEI) recently concluded its annual general assembly and awards ceremony in Taipei. The awards are designed to "reward outstanding dedication to horse sport."
The highest honor at the FEI awards ceremony is the Reem Acra Best Athlete Award, replacing the similar Best Rider Award that was given to Meredith Michaels-Beerbaum at last year's inaugural FEI awards presentation. While the description of the Best Athlete Award limits nominees to a "rider, driver or vaulter," the international equestrian sport community included an equine in their nominations. Dutch dressage rider Edward Gal shares the Best Athlete title with the incomparable black stallion, Moorlands Totilas.
Totilas and Gal have spent the last two years shattering the world records for top scores in international dressage competition. The pair went on to claim two individual gold medals and lead the Dutch dressage team to team gold at the 2010 Alltech FEI World Equestrian Games. After the WEG, Totilas was sold by former owner Cees Visser to German breeder Paul Schockemohle, leaving Gal saddened and in saerch a new top mount in prepration for the 2012 London Olympics. The Best Athlete Award is the pair's final honor together.
Other FEI Awards include the Alltech Development Award, given "to an individual or organization that has shown exceptional skill, dedication and energy in developing the sport." This year's Development Award was given to the Ebony Horse Club of Great Britain, a group that helps disadvantaged youth by improving life skills and education through working with horses.
The HSBC Rising Star Award is given to an up-and-coming rider between the ages of 14 and 21. This year's award went to American dressage rider Caroline Roffman, who has recently transitioned to the professional ranks and trained and rode her horse Bon Chance to the five-year-old championship at the 2010 USEF National Dressage Championships.
L-R: Michelle Tipper, Caroline Roffman, Ros Spearing, FEI Secretary General Alex McLin, Angelike Trabert, Chair of Group IX Mary Binks. Photo: William Tzeng/FEI
The Against All Odds Award recognizes "a rider or driver of any age who has overcome the hurdles of extreme personal difficulties or a physical disability in the pursuit of sporting ambition and prowess." Germany's Angelika Trabert is the recipient of this year's award. Trabert was born without legs and with only two fingers on her right hand, but has ridden since age six and has become an accomplished dressage riders. Her record includes several Paralympics, including a silver medal in 2008.
This year's Best Groom Award went to Michelle Tipper of Great Britain. Tipper got her start as a dressage rider, then transitioned to a career as a professional groom for dressage rider Nicky Barrett. She now works as a freelance groom, grooming for top international dressage and para-dressage riders.
Also at the FEI General Assembly, HRH Princess Haya was re-elected by a wide margin as FEI President for a second and final four-year term. Princess Haya faced opposition from two other candidates, a rare occurrence in FEI elections where incumbents have always been uncontested.