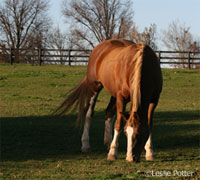 The ranching partner. The gallant runner. The trail buddy. The dazzling showman. The powerhouse. The graceful dancer. The faithful friend.
These are just some of the roles that the horse plays in our lives. Come to Equine Affaire, November 11–14 at the Eastern States Exposition in West Springfield, MA, and celebrate the horse with us.
Are you fascinated by an exotic breed of equine? Have you dreamed of owning a horse, of meeting your equestrian idols, or of learning from the greats in the horse world? What if you could go to a place where nearly every breed, equestrian discipline, and type of equipment and riding apparel were under one roof? You, in the same room with friendly, like-minded enthusiasts and maybe even your favorite equestrian celebrity? (Bring a pen and get an autograph!) That's exactly what you'll find at Equine Affaire.
Soak up information and advice through more than 200 clinics, seminars, and demonstrations by such luminaries as all-around horseman Chris Cox, reining star Stacy Westfall, international eventing competitor Denny Emerson, "Man Who Listens to Horses" Monty Roberts, horsemanship officionado Julie Goodnight, dressage riders and authors Jane Savoie and Betsy Steiner, barrel racing legend Marlene McRae, reinswoman Muffy Seaton, and a host of other top equestrians. Shop the largest equine trade show in the East with more than 450 equestrian retailers and manufacturers. Cheer on your favorite team in the fast-paced Versatile Horse & Rider Competition. See your favorite breeds (and meet some new ones) in the Breed Pavilion and the Horse & Farm Exhibits. Bring the kids for fun and informative activities designed just for them in the Youth Pavilion. And meet some stars from the competitive and cinematic arenas in the Celebrity Horse Showcase!
From Black Beauty to the Black Stallion, the horse is the stuff of dreams. Fantasy meets reality on Thursday, Friday, and Saturday nights at Equine Affaire's Pfizer Fantasia, the expo's signature evening spectacle featuring exceptional horses and riders, music, and a touch of magic. But get your ticket early—they sell out quickly for this fantastic equine musical revue.
Adult admission is $14/day or $48 for a four-day pass. Youth admission (ages 7-10) is just $8/day or $28 for four days. Future riders age six and under are admitted free of charge. Separate tickets are required for the Pfizer Fantasia.
For a complete schedule of events, presenter lineup and bios, exhibitor lists, advance tickets, maps, directions, and host hotel information—everything you need to know to make your visit to Equine Affaire a heavenly one—visit EquineAffaire.com or call the stable of helpful Equine Affaire staffers at (740) 845-0085 (M-F, 9-5 ET).