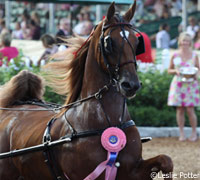 Pink Ribbon classes at American Saddlebred shows, including the American Royal, raise awareness and funds for breast cancer research.
Photo: Leslie Potter
The United Professional Horsemen's Association (UPHA) Senior Challenge Cup and United States Equestrian Federation (USEF) Saddle Seat Medal are among the highest honors in the world of saddle seat equitation. Both finals will be contested this week at the American Royal in Kansas City, MO.
Along with the NHS Good Hands Final, which was held this year at the Mane Event Horse Show in Springfield, Ill. in October, the Challenge Cup and USEF Medal are the three jewels of the saddle seat equitation triple crown. The USEF Medal will be held in two phases on Saturday morning.
The UPHA Senior Challenge Cup preliminary takes place on Thursday morning with the finals on Thursday evening. The Junior Challenge Cup for riders 13 and under runs on Wednesday and the 10 and under walk/trot finals are on Friday. Although the Challenge Cups and USEF Medal are open to saddle seat equitation riders on any breed of horse, the American Royal is a Saddlebred show that attracts primarily equitation riders from the American Saddlebred breed. UPHA Challenge Cups specifically for Morgan, Arabian and National Show Horse riders are held at each breed's respective national championship show.
The UPHA Exceptional Challenge Cup is for saddle seat and hunt seat riders with mental or physical disabilities. Riders in this national final can ride any breed of horse and compete at the walk and trot on the rail and in an equitation pattern. A champion, reserve champion and top ten awards are given at the end of the final phase on Friday evening.
Outside of the equitation division, the Royal also hosts the championships for the UPHA Classics. These classes are similar to futurities in other sports as they showcase younger Saddlebreds and Hackney ponies in various divisions. Horses and ponies must qualify for these grand championships by placing in a qualifying class during the preceding show season.
Other events held at the American Royal include the UPHA Pink Ribbon Program. Friday evening is designated "Pink Ribbon Night" at the Royal where barns and individuals can help raise money for the Susan G. Komen for the Cure. Since 2007, the program has raised $170,000. Learn more at uphaonline.com/pink.php
The Royal is the grand finale of the American Saddlebred show circuit and the third leg of the breed's show circuit after July's Lexington Junior League and August's Kentucky State Fair World's Championship Horse Show. For ticket information, visit AmericanRoyal.com. Saddlebred enthusiasts can also watch the competition online through a pay-per-view live streaming at mediastoreonline.com/americanroyal