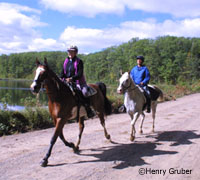 For trail riders who wish their rides didn't end at five or 10 miles, endurance riding is the
perfect next endeavor. "Our rides range from 25 to 100 miles, and our motto is 'to finish is to
win'," said American Endurance Ride Conference (AERC) Executive Director Kathleen Henkel. "Many
fit trail horses are certainly capable of finishing one of the shorter distance rides, and the
satisfaction that riders get from completing an AERC ride is incomparable."
To welcome riders new to the sport, AERC is offering a drawing for a new Polar® Inzone Equine
Heart Rate Monitor, sponsored by
EquineMonitors.com
, for brand-new members who join by January 1,
2011. Using a heart rate monitor is popular with distance riders as it allows them to exercise
their horses within a specific target heart rate zone.
Membership in AERC includes a subscription to the monthly Endurance News magazine, plus rider
and equine mileage tracking in the organization's mileage award program. Each new member also
receives an endurance handbook, which introduces riders to the sport, plus a packet of education
information, a rule book and eligibility in annual regional and national awards programs.
"Endurance riders take their sport seriously, because care for the horse is vital," said
Henkel. "But our members also enjoy being out with their horses and their fellow riders in
beautiful locations throughout the U.S. and Canada."
AERC's ride season opens December 1, and prospective members can visit www.aerc.org to check
out the endurance ride calendar and explore the website's extensive educational information and
back issues of Endurance News, or phone AERC at 866-271-2372. The organization's national office
is in Auburn, California, home of the first modern endurance ride, the Western States Trail Ride,
more often known as the Tevis Cup.
"The Tevis Cup is still the one ride that many new members aspire to ride. It's a tough
100-mile ride and a true test of horsemanship and stamina," said Henkel. "But once members try
their first 25-mile ride, they know that even a 100-mile ride is not out of their reach, with
proper knowledge and many miles on the trail together with their horse. Those miles together
really bond the horse and rider into a true team, and that's what endurance riding
celebrates."
To join AERC, or for more information about endurance riding, please contact the AERC office,
located in Auburn, California, at 866-271-2372, email aerc@foothill.net, or visit www.aerc.org