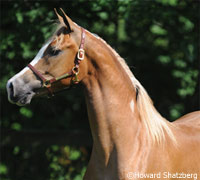 CBMF Stolen Kisses. Photo: Howard Shatzberg
Have you always dreamed of owning your own Morgan horse? Now you can, thanks to the American Morgan Horse Association, Team Morgan, and Copper Beech LLC! The 2010 AMHA/Team Morgan's Win a Morgan Horse Contest is underway and one lucky person will be the winner.
The contest is open to any youth, age 21 and under, who is interested in owning a Morgan horse. The applicant will complete an application, essay, DVD, and include two letters of reference and submit the package to AMHA by Wednesday, January 19, 2011 at 5 p.m. EST. The entry fee is $50. The winner will be announced at the American Morgan Horse Association's annual convention on February 24 in Boston, Massachusetts. The winner is responsible for transportation of the horse to his or her own location from Richmond, Massachusetts.
This year's contest horse is a coming two-year-old chestnut mare named CBMF Stolen Kisses. "Latte" is by GLB Bell Pepper and out of Chocolate Kisses, who is a full sister to world champion Continental Vision. In August, she won the Yearling Filly class at the Massachusetts Morgan Horse Show.
CBMF Stolen Kisses. Photo: Terry Young
Ann Hailey of Copper Beech LLC in New Albany, Ohio, once again has generously donated a Morgan horse from her breeding program as the prize. In 2008, CBMF Walk The Line was won by Christie Little of Harrington, Delaware, and in 2009 Katarina Barrett of Middletown, Maryland, was the winner of CBMF Phoenix.
For more information on this contest or to request a contest package, please contact Christina Koliander at (802) 985-4944 ext. 402 or chris@morganhorse.com.
For more information on America¹s original horse breed, contact the American Morgan Horse Association, Inc., 4066 Shelburne Road, Suite 5, Shelburne, Vermont 05482; (802) 985-4944; www.morganhorse.com