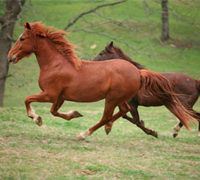 On Thanksgiving Day in 2009, 84 horses were rescued from one of the largest neglect cases in Tennessee history. The equines were brought to the Tennessee State Fairgrounds where volunteers began the long task of bringing them back to health.
Nearly a year later, the Tennessee State Fairgrounds hosted a major fundraiser for a new organization devoted to helping prevent neglect cases like this. Reaching Equines in Need (REIN) is a group dedicated to helping horse owners care for their horses during difficult financial times. REIN is a collaboration of concerned Tennessee horse owners who want to give other horse owners a place to turn for short-term assistance in situations such as natural disasters or family medical problems.
The fundraiser, called The REIN Event, included clinics and presentations of interest to all horse owners. Featured presenters included clinicians Josh Guin, Dale Rudin and Josh Lyons, and singer/songwriter Mary Ann Kennedy. According to a report of the event in the Tennessean newspaper, several of the horses rescued and brought to the fairgrounds last year returned to the fair for The REIN Event to illustrate why the group's existence is important for the Tennessee horse community. A few of those horses are still available for adoption through Almost Home Animal Rescue of middle Tennessee.
For more information about REIN visit tnrein.com