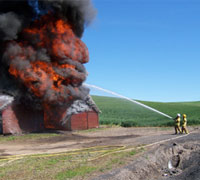 A tragic barn fire in Footville, Wisc., last week killed 24 horses and destroyed the stable where they were housed. The facility was home to an equine rescue called the Humane Organization Rescuing and Saving Equines (HORSE, Inc.). A few of the horses that perished in the fire were personal horses of the organization's owners, Cindy and Jim Bondowski, but the rest were rescues being rehabilitated for adoption.
The fire occurred on the morning of November 24. The Bondowskis were inside their house on the property and saw some of their horses running. They heard loud bangs from outside and went to investigate, only to find their barn engulfed in smoke and flames.Jim Bondowski opened the doors and attempted to enter the barn to get the horses out, but the smoke was already too thick. A few of the horses did escape through the open door.
Fire officials stated that the blaze was most likely the result of an electrical issue or heater malfunction. Seven horses escaped the fire, and the organization had several horses living outside in the pasture. The Bondowskis are now seeking a new facility to house these horses and to become the new headquarters of HORSE, Inc.
In addition to the loss of many of the horses and the barn, much of the farm's equipment, hay and grain also burned in the fire.
To learn more about HORSE, including how you can help the rebuilding process and care for the surviving horses, click here.
Further Reading
Extinguish the Threat of Barn Fires