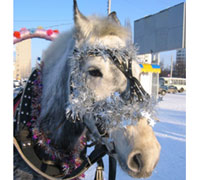 Approximately 140 horse-drawn carriages and more than 100,000 visitors are expected at this weekend's parade in Lebanon, Ohio.
The Historic Christmas Festival and Horse Drawn Carriage Parade has been a tradition for 22 years in the town of Lebanon, Ohio, which lies between the cities of Cincinnati and Dayton. A daylong festival that includes food and craft vendors alongside downtown shops is highlighted by two equine parades.
The first parade takes place at 1 p.m. and the second is a candlelit parade at 7 p.m. A total of 140 entries are signed up for this year's parade. According to the Lebanon Area Chamber of Commerce, this year's parade is as large as the town can handle.
Equine entries will come in all types and sizes, from Minis and Hackneys to Clydesdales, Friesians and Percherons. According to an article in the Cincinnati Enquirer, two Friesian entries will be traveling to Lebanon from New York to participate in the parade for the second year in a row.
The family-friendly, daylong event is free and open to the public. To find out more, click here.
Further Reading
Guidelines for Using Horses in Parades