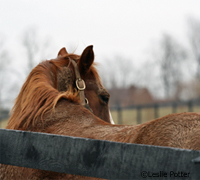 There are horses in need in every region of the country. When making a donation, consider local charities first.
Photo: Leslie Potter
Horse rescues and equine welfare activists have embraced the use of blogs, message boards and social networking to quickly spread the word about horses in need. By using Internet-based communication to solicit donations from a wide pool of horse lovers, rescuers are able to save at-risk horses from meeting a cruel end. This technique has also worked in finding permanent homes for rescued animals. Unfortunately, it can also be exploited, which is allegedly what happened in the case of NJ Horse Angels.
Also operating under the names Horse Angels of Facebook, Camelot Auction Horse Angels, The Forgotten Angels and NJ Killpen Horses, the NJ Horse Angels, run by Sharon Catalano-Crumb and Frank Wikoff, are being sued for misuse of funds. The lawsuit alleges that more than $60,000 of the approximately $145,000 raised to rescue and care for slaughter-bound horses actually went to pay for personal expenses, including gambling trips to Atlantic City.
Catalano-Crumb and Wikoff are being charged with violating New Jersey's Charitable Registration and Investigation Act. In addition to misuse of funds, the suit also alleges that the charity neglected to provide veterinary care for rescued horses after soliciting donations specifically for that purpose.
Photos of emaciated horses and accompanying sob stories can move even the most rational horse lover to consider sending money to an unknown party. Before parting with your dollar, do some homework. While many unorganized groups are doing legitimate rescue work, choosing a registered, non-profit charity is a smarter option. You can search the IRS database to find out if a rescue is a registered non-profit. Some larger charities are rated at CharityNavigator.org, a website that rates charity and maintains information on where donors' money is spent.
If you are considering making a donation, choose a charity you know. While sad photos of a horse at a slaughter auction across the country may stir you to take action, the safest donations are often those that go to a local charity.
For more on selecting a horse rescue, click here.
For a list of horse rescue organizations, click here.