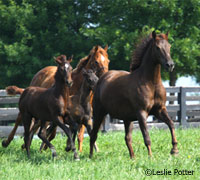 There's hardly a day on the calendar that isn't occupied by some sort of holiday or observance. For example, September 29 is National Goose Day. April 4 is World Rat Day. January 14 is National Dress up Your Pet Day. The entire month of October has been designated Squirrel Awareness Month.
Whether you think these celebrations are fun or just silly, they're out there, and It seems only fitting that horses should get a day of their own, too. In 2004, Congress designated December 13 as National Day of the Horse. For the full text of the resolution,
click here
.
You probably won't find Day of the Horse cards at your local gift shop, but here are some other ideas for ways you can celebrate the horse today.
Call out sick, put on your warmest barn clothes and spend the day on a long, leisurely trail ride.
Alternately, give your horse the day off and set up an appointment with an equine massage therapist.
Get some apple cider and a carrot cake and throw a Day of the Horse party for all your barn friends.
Wear your breeches or rowel spurs when you're out running non-horsey errands. When people give you strange looks, use that as an opportunity to wish them a happy National Day of the Horse.
Head to the nearest mega-grocery store and buy a 50-pound bag of carrots. Or start a tradition and bake your own Day of the Horse treats.
Is the weather miserable where you are? After you've finished your barn chores, head inside for a horse movie marathon in your living room.
Give your horse a big hug, but wait to hug your barn manager or trail riding buddy. February 20 is National Hug an Equestrian Day.