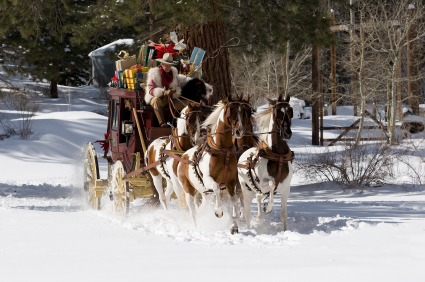 Consider giving the gift of a donation to a horse charity this holiday season.
Time is running short for Christmas shopping. If you're short on ideas, consider making a donation to a non-profit organization in a friend or family member's name. If you have horse lovers on your list, there are plenty of horse-related charities that accept donations.
Local First
Your charity dollar will often do the most good if it is used locally. Smaller groups help your local community and may have fewer administrative costs than a national group, which means more money goes straight to the organization's work.
Winter is a tough time for horse rescues as hay bills increase and more owners are forced to give up their animals. Check our list of non-profit horse rescues, but be sure to do your homework before donating to a charity you are not familiar with. Talk to volunteers or staff, and visit the rescue if possible.
Equine-facilitated therapy facilities will usually take donations to help subsidize their services for low-income students. Some facilities may have programs for veterans or at-risk youth in addition to hippotherapy for people with disabilities. Visit PATHIntl.org to find certified therapeutic riding centers in your area.
Help the World
If you're interested in a more global reach, there are plenty of reputable non-profits dedicated to helping equines around the country and the world. Some work directly for animal welfare while others help a wider range of horse-related causes.
The World Society for the Protection of Animals works for better treatment of all animals, wild and domesticated, around the world. Their disaster relief program helps locate and provide veterinary care for animals that have been displaced or abandoned due to disasters. The WSPA was instrumental in helping horses and other animals after the devastating earthquake in Haiti earlier this year.
The Equine Land Conservation Resource (ELCR) unites riders and horse owners across the country to help preserve land for equestrian use. The ELCR provides practical information and support for individuals and groups working to preserve farm land and equestrian trail access in their local area.
Stolen Horse International, also known as netposse.com, is the premier resource for horse owners whose horses have been lost or stolen. Netposse sends out alerts and creates printable flyers to spread the word about missing horses, tack or trailers. Netposse is also the leading source of information to help horse owners protect their horses from theft.
The Brooke is a U.K.-based charity that provides veterinary and farrier care to working horses, mules and donkeys, and educates their owners on how to properly care for their animals. The Brooke's reach extends across Asia, the Middle East, Africa, and Latin America. In the United States, supporters can donate through the American Friends of the Brooke.
The American Society from the Prevention of Cruelty to Animals (ASPCA) has been help American horses since its founding in 1866. Early projects centered on improving the working conditions for carriage horses in the city by providing clean water and veterinary care. Today, the ASPCA supports and recognizes equine rescue centers and fights animal abuse through humane law enforcement. They also promote responsible horsemanship through sponsorship of major equestrian events.
Liked this article? Here are others you'll enjoy:
Help Horses by Volunteering at an Equine Charity
Donations to a Local Horse Rescue are an Ideal Holiday Gift