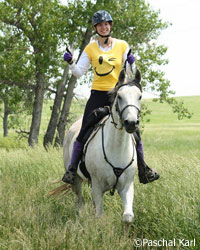 2010 USEF Youth Sportsman's Award winner Kelsey Kimbler riding CAHR Junior. Photo: Paschal Karl, courtesy Kimbler Family
The United States Equestrian Federation (USEF) is pleased to announce Kelsey Kimbler as the winner of the 2010 USEF Youth Sportsman's Award, sponsored by Breyer Animal Creations®. Kimbler was selected from an outstanding group of youth representing their respective recognized breed and discipline affiliates from across the country. An avid endurance competitor from Aberdeen, SD, she was nominated by both the Arabian Horse Association (AHA) and the American Endurance Ride Conference (AERC).
"Winning the Youth Sportsman's Award is a great honor," shared Kimbler. "My sister Kirsten won this award in 2007 and I've always looked up to her. When she won, I decided 'That's my next goal!' It has been a whirlwind experience."
The 17-year-old high school senior has shown an unwavering commitment to her sport. As a young child, she started in the show ring, competing in walk-trot classes. Soon after, she continued her riding with endurance and has never looked back. Kimbler has won the AERC Junior National Hundred Mile Award twice in its four years of existence. This award is given to the junior rider who completes the most 100-mile rides in one year. Kimbler holds the record for being the only junior to complete five such endurance rides in one year. She also has represented the AHA Youth Association as her region's delegate and through involvement in 4-H events with her Arabians.
Her commitment does not stop with her horses, and as Kimbler can attest, she's used to balancing quite a hectic schedule. She tested for the first professional level in ballet in the fall, and hopes to teach younger children, to fund her college education. In addition, she is a member of the Keystone National Honor Society which requires her to complete 30 hours of community service along with maintaining at least a 4.0 grade point average. She is also an active member of her school's cross-country team and Students Against Destructive Decisions club (SADD).
Kimbler plans to attend university near home next year, pursuing a degree in biology. While other future plans aren't yet set in stone, she's already sure of one thing: horses.
"I really just love riding bareback in my backyard," Kimbler said. "So as long as I can do that, I will be content. Anything else is just icing." She added that one day, she hopes to help junior riders through their first endurance rides, as a sponsor and mentor.
Kimbler will receive a trophy, a $1,000 scholarship to the educational program of her choice, and a lifetime membership to USEF, valued at $2,500. Kimbler, along with the other 10 national nominees, will be recognized in January at the 2011 USEF Annual Meeting in Lexington, KY.
The other national nominees were:
Kahlie Kroells, Hamburg, MN (American Hackney Horse Society)
Rebecca Jones, Efland, NC (American Morgan Horse Association)
Lauren Riggins, Winston Salem, NC (American Road Horse and Pony Association)
Delynn Uttecht, Omaha, NE (American Saddlebred Horse Association)
Macy Plemmons, Lewisville, NC (American Shetland Pony Club)
Laura Orr, Topsail Beach, NC (Paso Fino Horse Association)
Isabelle Leibler, Greenwich, CT (United States Dressage Federation)
Gina Malito, Warren, OH (United States Eventing Association)
Kara Dunegan, Manassas, VA (United States Hunter Jumper Association)
Rachel Laufer, Utica, PA (Welsh Pony & Cob Society of America)
The USEF Youth Sportsman's Award is designed to develop youth to become leaders in the equine industry from all breeds and disciplines. This program provides an opportunity for the USEF to recognize outstanding youth members for their achievements.
For more information on the USEF Youth Sportsman's Award, please contact Jennifer Mellenkamp, Director, National Breed/Discipline Affiliates and Youth Programs, at jmellenkamp@usef.org or (859) 225-6955.