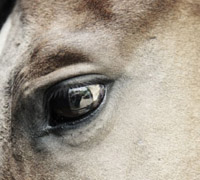 In 2009, horse owners in south Florida were horrified by a string of thefts and brutal killings of privately-owned horses. Several horses were taken from their barns and pastures and slaughtered for their meat, which is valuable on the black market in Miami.
One of the people responsible, Santiago Cabrera, was sentenced on December 17 to five years in prison after admitting to stealing and butchering two horses. He told investigators that he had been paid $500 for the first horse and $900 for the second.
Cabrera had turned in then-18-year-old Luis Cordero in an attempt to cash in on the reward that had been offered for information on the killings. Cordero confessed to killing horses for their meat in September of 2009. His trial is currently scheduled for January.
According to a December 17 article in the Miami Herald, area horse owners were unhappy with the light sentence given to Cabrera. Five years was the maximum sentence possible under a plea bargain. Had he plead not guilty and gone to trial, he could have faced up to life in prison.