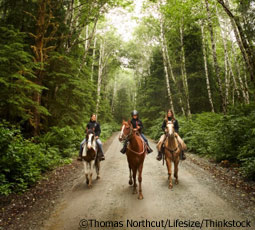 This summer, the American Competitive Trail Horse Association organized a nationwide trail riding fundraiser for equine rescues. The Humane Society of the United States has distributed financial grants to more than 30 rescues with the funds raised during this event.
The "
Ride for the Rescues
" was a Guinness Book of World Record-breaking event comprised of 50 trail-riding competitions held across the country on one day in June 2010. About 1,700 horses and riders participated in the event, raising nearly $70,000 to benefit The HSUS' work with horse rescues and sanctuaries. Proceeds benefited rescue groups in 24 states.
"We thank the American Competitive Trail Horse Association for recognizing our work with the horse rescue community and dedicating their charity event to support the needs of these organizations," said Keith Dane, HSUS director of equine protection. "It is our hope that the funds distributed will bolster equine rescues' tireless efforts to save horses and offer them a second chance at life."
There are nearly 600 equine rescues and sanctuaries operating in the United States that rehabilitate neglected and abused horses, secure new adoptive homes or provide them with lifetime care. As with other nonprofit organizations, horse rescues rely heavily on donations to assist these animals.
HSUS grant recipient Jo Deibel, president of Angel Acres Horse Haven Rescue in Pennsylvania, said, "We are honored to have received this grant, which will allow us to further our mission to help save horses bound for slaughter and assist more horses in need. The winter months are fast approaching and this grant will help more horses at a time of great need."
Each year, ACTHA sponsors hundreds of rides across the country, providing fun, casual venues to showcase horses of all breeds while raising funds for needy horses. For information on ACTHA's competitive trail ride program, visit actha.us. For more on the HSUS equine programs, visit www.humanesociety.org/horses