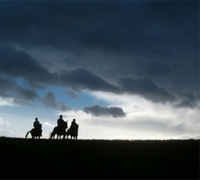 The deadline date for nominations for the 10th annual Equine Industry Vision Award is on or before February 1, 2011. Pfizer Animal Health sponsors the award in partnership with American Horse Publications (AHP) and developed it to recognize outstanding leadership, creativity and meritorious contributions in the equine industry.
The 2011 Equine Industry Vision Award will be presented on June 17, 2011 during the AHP Seminar in San Diego, California. The award recipient is given the Equine Industry Vision Award Perpetual Trophy, created in the finest full lead crystal by master artisan Peter Wayne Yenawine and commissioned by Pfizer Animal Health. In addition to the perpetual trophy, the winner receives a smaller version of the award as a memento of this unique recognition.
Since inception in 2002, there have been many worthy nominees for the Equine Industry Vision Award. Anyone is eligible to be nominated, re-nominated, or to nominate a candidate for the Equine Industry Vision Award and nominees may include individuals and/or organizations. Candidates may be considered for a single outstanding visionary achievement or for sustained outstanding contributions that have made a profound impact on the equine industry.
At a breakfast sponsored by Pfizer Animal Health during the AHP 40th Anniversary Seminar in Lexington, Kentucky, in June 2010, the 9th annual Equine Industry Vision Award was presented to John Nicholson for his vision and determination to make unimaginable dreams a reality. Best known for his work as the Executive Director of the Kentucky Horse Park and the President of the World Equestrian Games 2010 Foundation, Nicholson's leadership was pivotal in bringing the 2010 Alltech FEI World Equestrian Games to the United States.
In 2009, Charlotte Brailey Kneeland earned this honor for her vision to promote and certify riding instructors across the United States. Best known as the founder and director of the American Riding Instructors Association, Kneeland is a true leader who has set an exemplary standard in safety, good teaching practices and professionalism across the horse industry.
In 2008, Sally Swift earned this honor for having a revolutionary impact on horseback riding worldwide in the twentieth century. Best known as the founder of the Centered Riding® method used by riders across all disciplines, Swift is a true visionary whose legendary work will continue to impact the equine world long beyond her years.
David O'Connor was selected the winner in 2007. Best known for his Olympic accomplishments and his work as president of the United States Equestrian Federation (USEF), O'Connor is a true leader who is recognized and well respected throughout the equine world.
In 2006, Stanley F. Bergstein earned this honor for his positive contributions to the Standardbred racing industry and lifetime of accomplishments. Known primarily as the Executive Vice President of Harness Tracks of America (HTA), a position he has held for over four decades, Bergstein is a true leader and visionary who is recognized and respected throughout the equine world.
In 2005, the award was presented posthumously to John Ryan Gaines who passed away on February 11, 2005. Gaines was noted for his countless contributions to the horse world that continue to reach across disciplines.
In 2004, the American Quarter Horse Association (AQHA) was selected to receive this prestigious honor because of the organization's vast, positive impact on the equine experience worldwide.
In 2003, Don Burt was honored as the 2nd annual Equine Industry Vision Award winner. Burt has spent over 50 years living and working as a member of the horse industry and his efforts have been felt across disciplines.
In its inaugural year, the 2002 Equine Industry Vision Award was bestowed on Alexander Mackay-Smith (1903-1998) for his broad contributions to the whole of the equine industry. Mr. Mackay-Smith's influence continues today not only in his books, but also in the organizations that he helped found and that are still flourishing.
To request a nomination ballot for the 2011 Equine Industry Vision Award, contact Christine W. Brune, Executive Director, American Horse Publications at (386) 760-7743 or email ahorsepubs@aol.com.
Nomination information is also available at the AHP website.