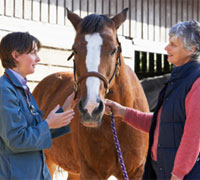 Pfizer Animal Health has pledged to match up to $25,000 donated to the American Association of Equine Practitioners (AAEP) Foundation's Equine Memorial Program in 2011. Pfizer Animal Health's matching challenge urging practitioners to participate in the program was unveiled on Dec. 7 at the 14th Annual AAEP Foundation Celebration in Baltimore, Md. during the 56th Annual AAEP Convention. This program is a continuation of the matching challenge implemented previously by Fort Dodge Animal Health, which was sold to Pfizer Animal Health in 2009.
The AAEP Foundation's Equine Memorial Program is designed to help veterinarians and veterinary clinics express condolences for a client's fallen horse. Donations of $25 or more are made to the Foundation in the name of an equine friend who has died or was humanely euthanized. Upon receiving the donation, a card conveying sympathy over the loss of the equine companion is sent to the horse owner. The card communicates the donor's commitment to improve the lives of all horses through the AAEP Foundation.
"We're very happy to have Pfizer Animal Health continue their support of the Foundation through the Equine Memorial Program, which recognizes the importance of our equine companions to owners and their support teams," said Wayne McIlwraith, BVSc, Ph.D, DSc, FRCVS, Diplomate ACVS, Chairman of the AAEP Foundation. "This generous matching donation grants the Foundation more resources to support equine research, provide funding for veterinary and horse owner education and other programs that promote the health and welfare of horses."
Pfizer Animal Health will match tax-deductible gifts made to the Equine Memorial Program before Nov. 18, 2011. To learn how you can make this valuable tax-deductible gift an ongoing, automatic part of your client protocol or as a horse owner how you can honor a friend or colleagues horse, visit www.aaepfoundation.org.
"The AAEP Foundation's programs and goals align well with Pfizer Animal Health's commitment to healthy horses, education and the veterinary community," said Laura Primm, Director of Sales at Pfizer Animal Health.
The AAEP Foundation, Inc.
The AAEP Foundation, a 501(c)(3) organization, is the charitable arm of the AAEP. Founded in 1994, the AAEP Foundation is dedicated to the health and welfare of the horse. The AAEP Foundation's mission is to improve the health and welfare of the horse through support of research education, benevolence and the equine community. To learn more about the Foundation, please visit us at www.aaepfoundation.org.