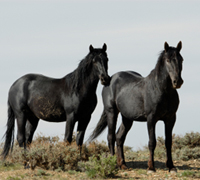 Mustangs and the 2009 Extreme Mustang Makeover experience of several trainers are highlighted
in the new film Wild Horse, Wild Ride, directed by Alex Dawson and Greg Gricus. The film is being
premiered at the Palm Springs International Film Festival on January 9, and both showings are sold
out.
The co-directors are making their documentary feature debut with the world premiere of this
powerful film about wild Mustangs and the talented horsemen and -women who train them.
Dawson is a documentary producer and writer with more than 13 years of experience in the field.
Her work covers a wide range of themes and genres and has appeared on networks including the
History Channel, Discovery Channel, Travel Channel, CNBC, HGTV, OLN and PBS.
Gricus is a director of photography who has spent more than two decades behind the lens. His
work has taken him all over the world. While extensively versed in nearly all formats of film and
video, Gricus specializes in high definition cinematography. He has filmed more than 100 programs
for networks including Discovery Channel, National Geographic Channel, History Channel, Travel
Channel, A&E and PBS, and has also contributed to several independent feature films and music
videos.
Dawson and Gricus followed Charles and Carlos Chee; Evelyn and George Gregory; Jesus Jauregui;
Dr. Melissa Kanzelberger; Nik and Kris Kokal and Wylene Wilson during their Extreme Mustang
Makeover adventure. Filmed at the trainers' homes, the beauty of the American landscape is
captured from the Navajo nation to the Texas range to the rolling hills of New Hampshire. With
just 100 days to gentle and train a wild Mustang, the struggles and triumphs of the horses and
humans are captured on film to give viewers an inside look at what it takes to prepare for the
Extreme Mustang Makeover and the public adoption following the competition.
"We feel privileged and honored to have been given the opportunity to make this film and to
meet an array of extraordinary individuals who put their hearts and souls into training these
horses and getting them adopted," Dawson said. "We're very excited to be premiering the film at
the prestigious Palm Springs International Film Festival."
The Palm Springs International Film Festival website describes the film in the following way:
"What starts as a cautious and suspicious relationship evolves into a powerful bond as tight as
any love affair. Crafting a portrait of a seemingly bygone America, Alex and Greg highlight a
country where the pastoral beauty of the landscape is nearly matched by the compassion of the
people who inhabit it."
To learn more about the sold-out premiere, visit
www.psfilmfest.org. For more information on Dawson and
Gricus' Fish Creek Films, visit www.fishcreekfilms.com.