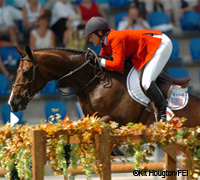 America's Favorite Equestrian is an interactive fundraising effort presented jointly in partnership by The EQUUS Foundation and The United States Equestrian Federation (USEF) to raise funds to advance the equestrian sport on an annual basis.
Using mobile texting, you can vote to select America's Favorite Equestrians and support The EQUUS Foundation with a $5 gift. 100% of all donations will be used to support charitable causes. A minimum of $10,000 in sport welfare grants will be awarded, with an additional $5,000 grant awarded to the equestrian discipline generating the most votes.
The objective is for the America's Favorite Equestrians to be an ongoing program with all equestrian disciplines/breeds represented and the winners recognized in a permanent "Hall of Fame". The original intent was to launch the inaugural program in conjunction with the 2010 Alltech FEI World Equestrian Games, which is why initially the eight disciplines of dressage, driving, endurance, eventing, jumping, para-dressage, reining, and vaulting were selected. The affiliates of the United States Equestrian Federation representing these disciplines selected the equestrians. But, there were some logistics involved in establishing the mobile texting system and developing the website, which delayed the launch until December.
"It is our goal to bring recognition to all the equestrian disciplines and breeds, and to inspire all equestrians to support our overall efforts on behalf of horses.You have to start somewhere, and for our founders, the background was the hunter-jumper community. We hope this program will generate excitement and involvement for horse lovers everywhere," said Lynn Coakley, President of The EQUUS Foundation.
The EQUUS Foundation is dedicated to securing homes and useful lives for all horses – competitively, recreationally and therapeutically – and to educating the public on the important role horses have in our everyday lives. The Foundation supports programs that use the horse to benefit the public, like therapeutic riding and equine-assisted activities, programs that promote horse welfare including rescue, rehabilitation, adoption, and retirements, and programs that promote the equestrian sport.
In the short time since the Foundation's establishment, over $1.5 million in grants has been awarded to horse and equestrian charities across the United States.
Recognizing that competition for charitable dollars is fierce and the fact that the Foundation is currently only able to award grants to less than half of the worthy applicants, the Board of Directors established and launched a new online network for social activism, carrots4acause, in September. "Our charities told us that second to financial support is the need for volunteers, and they are thrilled with the outcome. We hope to have the thousands of charities dedicated to horses and equestrians signed up for this free network by the end of 2011", said Jenny Belknap Kees, Chairman of the Board of The EQUUS Foundation.
The EQUUS Foundation also established a national Humanitarian Award in association with the United States Equestrian Federation in 2009, which is presented annually at the Pegasus Awards Dinner during the USEF Annual Meeting to spotlight the selfless dedication one individual or a group of individuals has made to making the quality of life of our equine partners paramount.
For additional information on The EQUUS Foundation, Inc., visit the EQUUS website at www.equusfoundation.org or contact The EQUUS Foundation, Inc., 168 Long Lots Road, Westport, CT 06880, telephone (203) 259-1550, email to equus@equusfoundation.org.
How To Vote
Visit the link at www.equusfoundation.org/afe.php. Select your favorite equestrian listed under each discipline and follow the instructions provided. After texting your vote, you must reply YES to confirm your vote/$5 donation.
If you want to cast more than six $5 votes in a single month ($30), please review the separate instructions listed on each equestrian profile; a credit card is required.
How It Works
Starting in December, 2010 through February 28, 2011, fans will be given the chance to vote for their favorite equestrians from among a slate of international athletes.
Winner Selections
The winners will be the athletes from each discipline with the most votes. The winners will be announced in March.
America's Favorite Equestrians
To Vote and Make a $5 Donation, text VOTE + (space) + (Equestrian's Number Below) to 85944:
Dressage
Courtney King-Dye (57)
Debbie McDonald (58)
Guenter Seidel (59)
Katharine Bateson-Chandler (60)
Leslie Morse (61)
Steffen Peters (62)
Tina Konyot (63)
Todd Flettrich (64)
Driving
Chester Weber (1)
Fred Merriam (2)
Lisa Singer (3)
Rochelle Temple (4)
Suzy Stafford (5)
Tucker Johnson (6)
Endurance
Becky Hart (41)
Bill Wilson (42)
Dave Rabe (43)
Earle Baxter (44)
Garrett Ford (45)
Julie Suhr (46)
Robert Ribley (47)
Valerie Kanavy (48)
Eventing
Boyd Martin (9)
Bruce Davidson (10)
David O'Connor (11)
James C. Wofford (12)
Karen O'Connor (13)
Kimberly Severson (14)
Phillip Dutton (15)
Tiana Coudray (16)
Jumping
Anne Kursinski (17)
Beezie Madden (18)
George H. Morris (19)
Joe Fargis (20)
Laura Kraut (21)
Margie Engle (22)
McLain Ward (23)
Peter Wylde (24)
Para-Dressage
Jennifer Baker (49)
Jonathan Wentz (50)
Laura Goldman (51)
Mary Jordan (52)
Rebecca Hart (53)
Robin Brueckmann (54)
Susan Treabess (55)
Wendy Fryke (56)
Reining
Andrea Fappani (25)
Casey Deary (26)
Craig Schmersal (27)
Matthew Palmer (28)
Randy Paul (29)
Shawn Flarida (30)
Tim McQuay (31)
Tom McCutcheon (32)
Vaulting
Ali Divita (33)
Devon Maitozo (34)
Katherine Wick (35)
Kenny Geisler (36)
Kristian Roberts (37)
Mary McCormick (38)
Megan Benjamin (39)
Todd Griffiths (40)
About The EQUUS Foundation, Inc.
The EQUUS Foundation, Inc., established in August 2002, as a 501(c)(3) national charitable foundation, seeks to raise public awareness of the value of the horse in society through education and the awarding of grants to charities that use the horse to benefit the public, promote the health and welfare of horses, and elevate the equestrian sport as a whole.