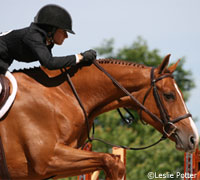 Bob Cacchione established the IHSA, the first intercollegiate equestrian organization. Photo: Leslie Potter
Bob Cacchione, Executive Director of the Intercollegiate Horse Show Association (IHSA), will be honored as the recipient of The EQUUS Foundation Humanitarian Award presented by The United States Equestrian Federation (USEF). The presentation will take place on January 21, 2011, at the USEF Pegasus Awards Dinner during the Federation's Annual Meeting in Lexington, KY.
The EQUUS Foundation Humanitarian Award is a celebration of the humanitarian achievements made by a member of the equestrian world. Specifically, the goal of this humanitarian honor is to spotlight and exalt the selfless dedication one individual or a group of individuals has made, whether on a regional or national scale. From improving the health and welfare of the horse to promoting and expanding the general public's appreciation and respect of the diverse roles of horses, the recipient of this award will be someone who has devoted considerable personal time to making the lives and quality of life of our equine partners paramount.
"I am totally overwhelmed with this honor; especially being recognized by my peers," said Cacchione. "To be acknowledged for what I have tried to do for the youth of the equestrian world with the creation and development of the IHSA is just incredibly meaningful."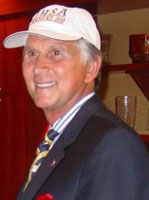 Bob Cacchione. Photo: Lynn Coakley
Cacchione was selected by USEF and The EQUUS Foundation in recognition of his integral role in establishing and building the IHSA into the organization it is today. Founded on the principle that any college student should be able to participate in horse shows regardless of his or her riding ability or financial status, the IHSA was founded in 1966 with five participating colleges and a handful of riders. Today, more than 370 colleges and universities participate with 8,700-plus riders. It is due to Cacchione's efforts that tens of thousands of collegiate students have had the opportunity to compete individually and as teams in equestrian competition.
For additional information on The EQUUS Foundation, Inc., visit the EQUUS website at www.equusfoundation.org or contact The EQUUS Foundation, Inc., telephone (203) 259-1550, email equus@equusfoundation.org.