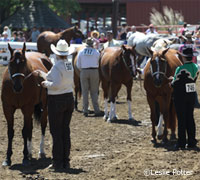 There is still time to sign up for the United States Equestrian Federation (USEF) and University of California Davis Extension's online continuing education program in Equine Event Management, which begins January 18. USEF members receive a 10 percent enrollment discount and scholarships are available as well.
The first of its kind, this specialized studies program brings together UC Davis' expertise in distance education and the expertise of USEF, the National Governing Body for Equestrian Sport in the United States since 1917. The inaugural course, "Competition Management," was developed by Chuck Walker, USEF Director of Education, Mary Smith, USEF Director of Licensed Officials, Lisa Owens, USEF Assistant Executive Director, Competitions and Horse Services, and Leigh Anne Claywell, USEF Director of Competition Licensing, Evaluation and Safety. The four will also teach the class, which will include guest lectures by nationally ranked athletes and leaders in the competition management field. Topics covered include risk management, safety, planning & logistics, budgeting, securing sponsors, marketing the event and managing staff and volunteers.
Online classes in Show Secretary and a field study course will follow, with plans for additional courses on a variety of equine and equestrian sport topics. All courses meet the rigorous standards of the University of California System and carry 3 units of academic credit that may be transferred to another college or university. As part of the collaboration, UC Davis Extension will provide discounts to USEF members, and will provide one scholarship for every 10 students who enroll in the course.
Anyone interested in learning more about the program and online learning may sign up to enroll in the free session at www.extension.ucdavis.edu/eem. The session will provide more information about the program itself, and will give participants a real taste of what it is like to learn online through a sample lesson.
The two organizations began discussing the idea several years ago as a way to address a growing national need for trained event and competition managers at all levels of equestrian sport.
"The USEF now licenses and keeps records for more than 2,700 competitions," shared Lori Rawls, USEF Executive Director. "Thousands of horses and tens of thousands of riders are competing each year, and equestrian sport continues to be popular in the United States. The need for continuing education is clear. As the scope of equestrian sport expands, so does our responsibility to provide for fair and safe competition, as well as the welfare of our human and equine athletes. What makes this education program unique is the fact that it will be completely online and will maximize our ability to reach the broadest possible audience."
The decision to deliver the courses online acknowledges the busy schedules of those involved in equestrian sport and in the competition industry. UC Davis Extension has developed highly successful, award-winning online programs for diverse industries, including Viticulture and Enology, Applied Sensory Science and Consumer Testing, Health Informatics and most recently, Pathobiology of the Genetically Engineered Mouse. "The explosive growth in online education over the past twelve years has allowed us to provide the highest quality programs in a wide range of exciting topics with exceptional partners," said Linda Behrens, Department Chair and Executive Director of Distance Education for UC Davis Extension. "We are delighted to partner with USEF to provide much-needed programs in the dynamic world of equestrian sport."
This program will benefit volunteer show managers at the grass-roots level, those hoping to enter the field, and professionals already involved in equestrian sport who wish to improve the quality of their events. The program covers all USEF requirements for certification of competitions.
For more information, contact Mary Anne Porter, Director of the UC Davis Extension Online Innovation Group at mporter@ucde.ucdavis.edu, or Chuck Walker, USEF Director of Education, at cwalker@usef.org.