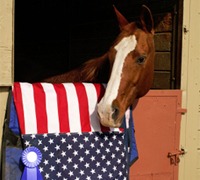 Last week members of the 112th Congress convened for the first time.
Now is a great time to remind returning and new members of the importance of the equestrian community and horse industry to the country, their states, and their districts. It is also an opportunity to start educating the many new members of Congress about the issues important to horse owners and the horse industry in their districts.
All members of Congress need input from the horse community if they are going to make informed decisions about the issues that impact horse owners, breeders, and the equine industry. This is especially true for new members who, depending on their individual background, might not realize the size, economic impact, and diversity horse industry in their state or district. The American Horse Council (AHC) works everyday to keep members of Congress informed on issues and the industry. However, it is vital they hear from the horse owners and service providers who live back home.
The following sample letters are provided by AHC as a starting point to craft letters to your Representatives and Senators. You should personalize it with information about your involvement in the horse industry or equestrian activities. If you have business or organization stationary be sure and use that when writing to your elected officials.
Click here to download sample letter to Representative
Click here to download sample letter to Senator
Contact information for your Representatives and Senators can be found at www.house.gov and www.senate.gov or you can contact the AHC. Please email or fax your letters to your Representatives and Senators as traditional mail must undergo lengthy security procedures.
The AHC urges all involved in the American horse industry to participate in this effort to welcome the new Congress and make sure they understand the value of equestrians and the horse industry. By building relationships now we will have a greater ability to make requests and influence legislation later.
Please send copies of any emails, letters or faxes you send to your elected representatives to AHC at bpendergrass@horsecouncil.org or fax to 202-296-1970. If you have any questions please contact the AHC.