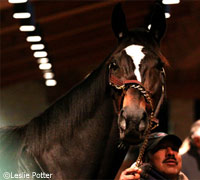 Last year's Eclipse Awards were a nail-biter for fans of the California-based racehorse Zenyatta. She was up for Horse of the Year for the second year in a row, this time against another female, Preakness Stakes winner Rachel Alexandra, and it appeared to be either horse's game. Rachel won the big award, and while Zenyatta did win the Eclipse Award for Older Females, her fans were disappointed.
After a remarkable 2010 season, Zenyatta faced another tight race for Horse of the Year. This year, the six-year-old mare was challenged for the title by Blame, a four-year-old stallion who was the only horse to ever defeat Zenyatta during her three-year, 20-race career. Blame narrowly won the Breeders' Cup Classic ahead of second-place Zenyatta in the final race of the season, putting a blemish on her otherwise perfect record and casting some doubt on her seemingly bulletproof Horse of the Year candidacy.
In the lead-up to the Eclipse Awards, Blame's supporters emphasized that while Blame did not have an undefeated season in 2010, his races had been more competitive than Zenyatta's. Zenyatta's supporters pointed not only to her record-breaking career (she broke the record for most consecutive wins) but her appeal to thousands of fans across the country, many of whom had never paid much attention to Thoroughbred racing before.
While the racing industry has had a long struggle with bad publicity and a dwindling fan base, Zenyatta brought positive publicity and new fans to the sport. Her owners, trainer and other connections were recognized for this unique public outreach with a special Eclipse Award at the awards dinner on January 17.
When the votes were tallied, Zenyatta won her Horse of the Year title with 128 votes to Blame's 102. A third candidate, the five-year-old, European-based mare Goldikova, received five votes. Her owners have stated that she will continue in training and race again this year as a six-year-old. Zenyatta and Blame have both been retired to breeding careers.
Read more about the 2010 Eclipse Awards at ThoroughbredTimes.com