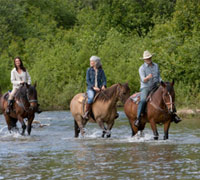 The American Competitive Trail Horse Association (ACTHA) is seeking charistmatic trail
horses and riders for their new reality TV series, America's Favorite Trail Horse. All
trail riders are invited to submit an application to audition.
Here's how it works.
Stage 1 – Attend an Audition near you
WHEN: April 11 – April 24, 2011. Entries are limited. Weekend slots
will be given to early entrants. Applicants will be notified of their audition time and location by phone
and email with at least two weeks advanced notice.
WHERE: Once all entries are in, exact locations will be determined.
See current audition locations at www.actha.us
HOW: Approximately 100 horse & rider teams will be selected as
finalists from the regional auditions. They will be represented in two age divisions: over
45 and under 45 (must be at least 21). Each region will be represented in the national
finals.
Auditioners will be judged on a wide range of criteria including the timely completion of
ACTHA's trail obstacles. Those moving on will be notified at least two weeks before the
national finals.
Auditions will be filmed and featured selectively on ACTHA TV (coming soon) and on
national TV.
Stage 2 – The National Finals!
All regional winners will be invited to come to the National Finals near Austin, Texas
May 8th -12th, 2011.
Festivities will include:
A six mile one day judged Competitive Trail Challenge to be enjoyed by all
finalists. This CTC will be held on one of ACTHA's most beautiful ranch venues.
Several days of schooling and being coached on a wide array of ACTHA's trail
obstacles. Ample time will be given during the week for question and answer sessions as
well as interviews.
Clinics from ACTHA's founders and celebrity clinicians complete with ample time for
question and answer sessions.
Tours of local area attractions.
Then….Awards by America's Live Vote!
In at least 10 selected episodes aired on National TV, America will vote for their
favorite horse in that episode. The horse with the most votes will win $5000 per selected
episode! (Can only be won once).
In the final episodes, America will be selecting their favorite trail horse and
award:
1st place – $25,000
2nd place – $15,000
3rd place – $10,000
Learn more about ACTHA and America's Favorite Trail Horse at www.actha.us
Affiliated Breed Associations
The National Walking Horse Association,
Arabian Horse Association,
Missouri Fox Trotting Horse Association,
American Paint Horse Association,
Tennessee Walking Horse Breeders' and Exhibitors' Association,
American Morgan Horse Association,
United Mountain Horse,
American Gaited Mountain Horse,
The American Indian Horse Registry,
International Purebred Appaloosa Association,
Appaloosa Horse Club
Questions? Contact the American Competitive Trail Horse Association at 877-992-2842.